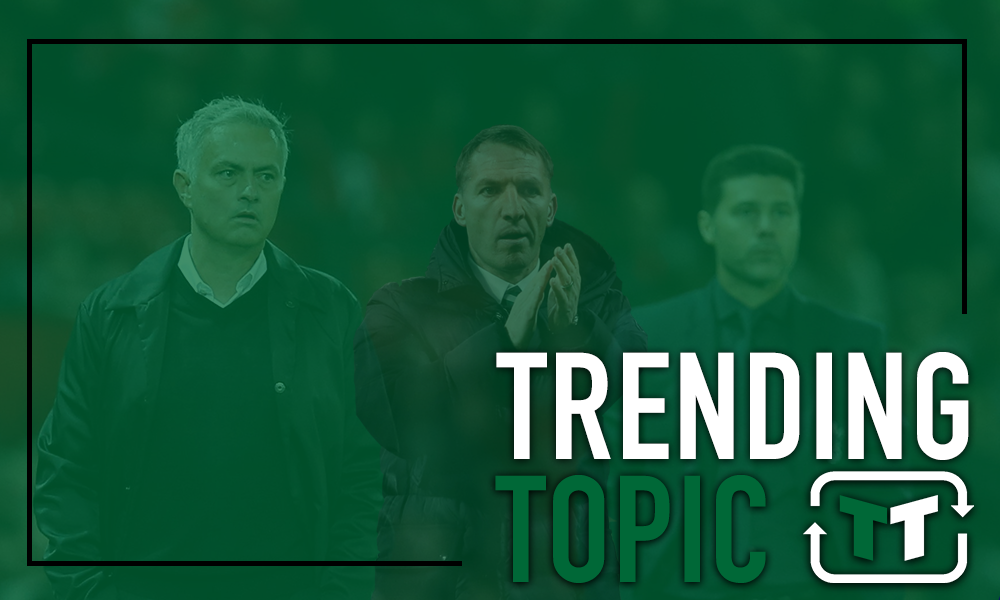 Jose Mourinho had been walking on a tightrope at Old Trafford for months, and it finally snapped on Tuesday. The Portuguese was sacked by the Red Devils following their loss to Liverpool, and though a surprise, it had been coming.
Now, Ed Woodward and the Man Utd brass have the incredibly tough task of replacing the manager. They've brought in Ole Gunnar Solskjaer, but that's only until the end of the season, and the club must look beyond that.
In truth, they've not really ever managed to replace Sir Alex Ferguson, with even Mourinho not able to take the place of the legendary Scotsman.
David Moyes, Louis van Gaal and Mourinho all tried to achieve that task, but thus far, nobody has been able to come close. Who the Red Devils will move to, then, remains to be seen.
Significantly, a recent report from Duncan Castles, for the Daily Record, has provided some insight into the world of management, and one takeaway from that piece is that former Liverpool boss Brendan Rodgers is hopeful of a top job back in England when his time in Scotland with Celtic comes to an end.
Scotland has proven to be a rich breeding ground for Man Utd in the past. They plucked their most famous boss, Sir Alex, from Aberdeen, and so the transition is possible. Rodgers is an accomplished manager, and whilst he might not be the most popular man at Old Trafford, could he prove to be a potential option for the Red Devils? Well, there's certainly an argument to be had to suggest that he'd be a good fit.
After all, what were the main grievances with Mourinho? Results, first and foremost, of course, but there's also his lack of focus on youth talent, divisive transfer strategy and his persona – and these are all things that, in theory, Rodgers would be able to change.
Rodgers has always placed an emphasis on young players, and so that would tick a couple of boxes for Man Utd. Their academy has some incredible players, like Mason Greenwood and Tahith Chong, and many of them have had few opportunities at the club in recent years. Rodgers has always been open to utilising the youth, perhaps stemming from his involvement in the Chelsea academy, and so you could see him continuing that at Old Trafford. He also tends to want to sign younger players, too, rather than the experienced stalwarts that Mourinho relies on. For a club that is eager to invest well, that's important, as it means a signing can remain at the club long-term as they begin to reach their peak. In this sense, Rodgers would please both the fans and the club's brass.
Personality is important, and Rodgers rarely casts a forlorn figure. He's passionate, he's determined, and he's also very positive – and it's fair to say that Mourinho's negativity did lead to a lot of frustration amongst the Old Trafford faithful.
Of course, the buck stops with results, but Rodgers certainly has a powerful voice in that argument. He's won 7 consecutive domestic trophies with Celtic, including an undefeated league season along the way, and that's a testament to his quality. Granted, the Scottish league is different to the Premier League, but this is still an achievement worth noting. Furthermore, he enjoyed a great few years with Liverpool before it all fell apart, and he came closer to the Premier League title than Liverpool had in years – and he certainly came closer than Mourinho did at Old Trafford.
Rodgers isn't a glamorous manager, nor is he a huge European name. However, his CV says it all, and for Man Utd, he should be a genuine option as they look to finally replace Sir Alex Ferguson. Fergie proved his worth in Scotland, just as Rodgers is doing now – and maybe it's time for the Red Devils to repeat what they've already done in the past.
Thoughts?