Everton fans on Twitter slam Walcott after yet another shocker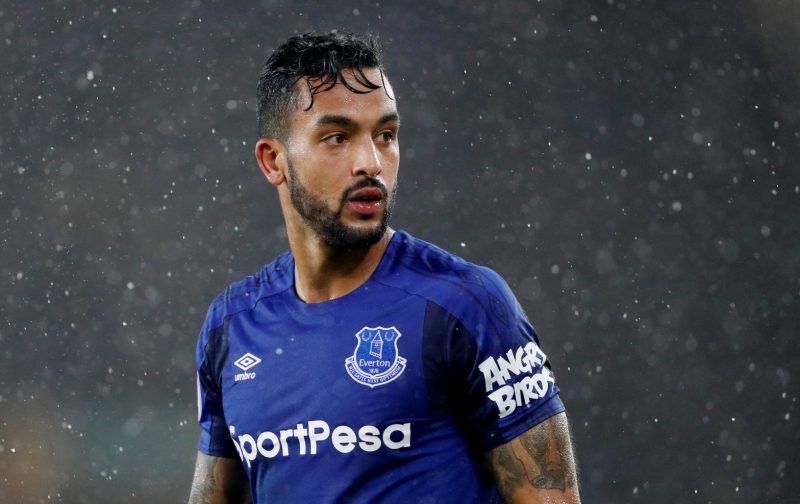 It's fair to say that Everton fans aren't all massive fans on Theo Walcott. The Englishman has been below par for the most part of the season, and his Goodison Park career has never really got going yet, and against Leicester today he was diabolical throughout.
Pretty much every opportunity that the Everton fans got yesterday they decided to rip into Walcott, and it's hard to blame them when you see how the ex-Arsenal man got on. When Walcott first burst onto the scene there was some serious hype around the winger, but he's never managed to live up to his lofty potential and has faltered into a mediocre player since then.
Walcott was brought to Goodison Park just under a year ago by Sam Allardyce, and a lot of fans would love to see him mark his one year anniversary as an Everton player with a move away unless he can drastically improve his form in the next couple of games that the Toffees play against Bournemouth and Southampton, as well as against Lincoln in the FA Cup 3rd round.
You can read the Toffees' verdict on Walcott and his Leicester display here:
Get Walcott on the transfer list, he's a waste of a wage

— Richard Gilbertson (@Richard52387010) January 1, 2019
Walcott isn't good enough for the Championship but yet we trot him out there every week. No purpose or energy. Lack of inspiration.

So yeah another typical Everton performance.

— Tommy Malecki (@tmalecki15) January 1, 2019
My thoughts are that I want to go out on new years eve will Theo Walcott next year he looks like he's had an absolute belter

— connor (@Manners16) January 1, 2019
Everton have looked dire. Slow and ponderous play with Walcott looking like he's strealing a living!!

— Colin Garland (@c_garland1) January 1, 2019
How is Walcott still starting

— Kahleb Federau (@KFederau) January 1, 2019
Walcott this match….

— William Norman (@Norre23) January 1, 2019
Walcott is a disgrace. Get him out my club

— Sean Melia (@seaniemeliala) January 1, 2019
The Toffees would love to offload Walcott this window, and Marco Silva will have to stop starting the 29-year-old if his form doesn't improve.