Everton: Fans react as six games chosen for live TV coverage
A selection of Everton supporters have been replying to a post on the Blues' official Twitter feed, declaring which of their games have been selected for live TV coverage in December and January.
Is Marco Silva the right man for Everton?
Yes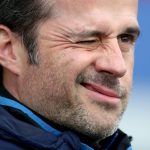 No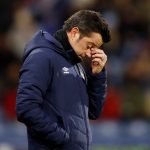 Six of the Blues' Premier League fixtures have been chosen in total, including the Merseyside derby on Wednesday, December 4, as well as the Toffees' following encounter with Chelsea at Goodison Park three days later.
Everton's packed winter schedule where Marco Silva's men face five of last season's top-six in the space of seven games has also seen that their meetings with Manchester United, Arsenal and Manchester City have also been selected for broadcast.
As has the Blues' encounter with Burnley on Boxing Day, with Amazon Prime Video holding exclusive rights for that day's fixtures, after winning a three-year Premier League broadcast package in 2018 that commences with every game from the first round of midweek fixtures in December (BBC).
Amazon's package of games has meant that Everton's clash with Merseyside rivals Liverpool on December 4 will be shown exclusively on their streaming service, while the match will also kick off 15 minutes later than previously planned at 20:15.
Everton's clash with Chelsea three days later has also been brought forward to a 12:30 kick-off and will be shown on BT Sport, giving Silva and his men 2 days, 14.5 hours rest between the full-time whistle at Anfield and the game commencing at Goodison Park.
The Toffees' have also seen their meeting with Manchester United pushed back one day and will kick off at 14:00, while their game against Arsenal on December 21 now kicks off at 12:30 and their trip to Man City on New Year's Day will begin at 17:30.
It was not only Everton's fixtures chosen for live TV broadcast that have been moved, either, with Newcastle United's trip to Goodison Park on January 21 brought forward to a 19:30 start to coincide with BT Sport's showing of Sheffield United vs Manchester City.
Sky, BT and Amazon's new kick-off times for Everton's fixtures have not sat well with some of the Goodison Park faithful, with one noting that the key changes make it challenging for them to get to the ground in time for the match.
Another asked 'who's agreed to that' in reference to the short window between facing Liverpool and Chelsea, to which a further supporter replied that Everton have a 'small club' mentality for accepting the extra cash generated from having games broadcasted live on TV.
Here are some of the messages shared…
Is that a 19:30 kick off against Newcastle? Why so early?

— Graeme (@graemeh1984) October 17, 2019
If I was to go I'd have to be racing from work to get home changed and out again

— Rhiannon Barron (@RhiannonEFC17) October 18, 2019
Yay love a good 12.30pm k.o

— .ℓσυ. (@LouiseAmy91) October 17, 2019
Absolute sickener there with them times

— Jenny (@Jennyefc1982) October 17, 2019
Love going to the footie at 12:30 me

— Michael Rutherford (@MRutherford_24) October 17, 2019
That's horrible news

— BeardsTattoosAndTaxicabs (@AtibaSimons) October 17, 2019
8:15 on a Weds then 12:30 on a Saturday? Who's agreed to that!

— Ian G (@IanG1878) October 17, 2019
Everton do.
We get extra revenue for being on live. Like when we played Leicester last season at 11:30 on New Year's Day after playing at Brighton on the 30/12. Small club, loser mentality is ingrained in the club

— Griff (@bolski91) October 17, 2019
8:15 start for the derby? Bet Merseyside police are happy with that one

— Jim Mac (@jimefc81) October 17, 2019