Everton: Fans react to Moise Kean's message to fans
Many Everton fans on Twitter have been reacting to the message that Moise Kean addressed to them following the showing of the banner with Kean's face and the words 'No Al Razzismo' meaning 'No To Racism'.
Is Marco Silva the right man for Everton?
Yes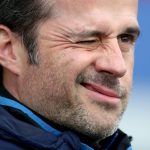 No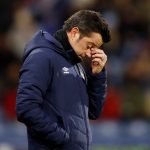 Kean was the subject of racist taunts when playing for former club Juventus last season away at Cagliari. The situation was only made worse when his teammate at the time, Leonardo Bonucci said "the blame is 50 and 50" between Kean and those fans who were racist.
The 19-year-old signed for the Toffees in the summer and as a stand against racism, the County Road Bobblers displayed the banner at Goodison and Kean has responded himself.
Both sets of teams also wore 'Kick It Out' t-shirts ahead of the game in the warm-up.
Lots of Everton fans have responded to Kean's heartfelt words where he thanked fans for the flag and finished the message off by saying "come on you Blues".
Here are the responses…
Can't help but love him me

— Harry (@harryb223) September 28, 2019
Excellent when he came on too, wanted it more than most

— Ryan (@Ryxn1878) September 28, 2019
Man City fan here, amazing gesture on your part… well done Everton!

— LEWIS (@Leeewissss) September 28, 2019
What a guy

— K__mc16 (@ToXiC__Viperz) September 28, 2019
Seriously well done. Amazing. The statement is spot on and we want people to feel welcome

— VapeChic (@danairey) September 28, 2019
No room for racist coyb

— Sandra Walsh (@sandrawalsh3) September 28, 2019
What are your thoughts on Kean's message to Everton fans? Comment below with your views…