Everton: Fans react to report on Carlo Ancelotti and Mikel Arteta
Loads of Everton fans have been reacting to Saturday's update on the manager front, as Farhad Moshiri has reportedly hit a crossroads when choosing between the likes of Carlo Ancelotti and Mikel Arteta.
According to The Liverpool Echo, the club's majority shareholder is 'torn' not just on who he wants to take over from Marco Silva, but on which direction he wants the club to go.
Of course, the arrival of Ancelotti would bring the promise of silverware and success, as the Italian boss has racked up a ridiculous trophy haul, including three Champions League titles.
Then there is Arteta, who after achieving huge success with Pep Guardiola is surely soon to make the jump to management, and would likely bring a slower process that builds gradually with youthful exuberance and new ideas.
The report from The Liverpool Echo acknowledges that his is a massive moment for the future of the club, and Moshiri must get it right.
With plenty of fans discussing the news on Twitter, the majority of them are leaning in one direction…
Ancelotti is everything Mourinho would bring, but without the drama. If there is the slightest chance of us getting him, we have to exhaust every angle we can get.

— Matthew Barry (@EFCMatt1) December 14, 2019
How is this even a question? Ancelotti is a winner managed the best teams in Europe and then the is arteta who is an assistant, arteta is more of a risk than ancelotti

— Liam Townson (@LiamTownson) December 14, 2019
No competition … ancelotti all day.

— Keith Seymour (@seymoksatis) December 14, 2019
Why is Moshiri deciding? What does he know about appointing a football manager..and how have his previous appointments worked out?😫

— Joanne (@Joannecolaa) December 14, 2019
If they are both interested I'd be delighted but Ancelotti for me!

— ⚽Hel⚽ (@EvertonHel) December 14, 2019
I honestly don't get this interest in Arteta, what's he done to warrant being in charge of Everton ffs?? I would much rather have Duncan before him. But for me it has to be Ancelotti or Benitez.

— Ste Jones (@5teVanDamme) December 13, 2019
No one has any idea how Arteta would be as a manager, just being a former player doesnt qualify. An endorsement from Pep also doesn't make him a great manager. How many of Alex Ferguson's assistants went onto be world class managers? Think we need proven quality, Ancelotti for me

— Paul Jones (@pauly1878) December 13, 2019
Would you take David Moyes back at Everton?
Yes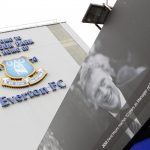 No