Everton: Fans want Marco Silva sacked and replaced by David Moyes following Norwich defeat
Plenty of Everton fans have been left with only one option on their minds to replace Marco Silva – former Toffees boss David Moyes.
Yes, that's right, Silva's tenure has now reached such drastic lows that fans are in 'steady the ship' mode, with Saturday's defeat to Norwich City clearly the last straw for some.
There looked to be some signs of life in Silva's side before the international break with a win at Southampton, but the performance against the Canaries, especially at home, was extremely disappointing.
And with the pressure no doubt heaping on Silva, especially after what he revealed he thought was to blame for the defeat, fans have turned to Moyes as their possible saviour.
The 56 year-old was of course in charge at Goodison Park for a whopping 11 years before departing for his disastrous spell at Manchester United, followed by time with Real Sociedad, Sunderland and West Ham.
You can find some of the best Twitter reactions down below, where more than a few fans think it's time to bring back 'Moyesy'…
He will definitely steady the ship. Hopefully get some passion back within the squad. We are flirting with relegation .changes have to be made and fast. Sorry Marco times up

— Andy (@Andy21420346) November 23, 2019
Honestly bring him back. I was on board with Silva at the start but he's loosing me at this point

— Chris Wilmoth (@Casual_Friedaze) November 23, 2019
Anyone who says they wouldn't take him over Silva is lying

— Si Williams (@SiWilliams6) November 23, 2019
Am that disappointed I'd take it

— manxrooster (@manxrooster1) November 23, 2019
happily bring him in

— Wylan💉 (@BeamingBernard) November 23, 2019
He's streets ahead of Silva.

— Local Stuntman (@SCOA22) November 23, 2019
yes yes yes

— Samuel and Thomas (@wearethetwins) November 23, 2019
Is Marco Silva the right man for Everton?
Yes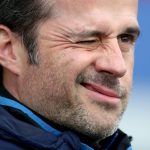 No