Everton: Michael Keane ridiculed for deadpan Christmas wishes
Everton fans seem to be in no mood to let players off the hook during the Christmas period.
That was made abundantly clear after Michael Keane's performance in the club's Christmas message to their supporters did not exactly get the seal of approval he may have wanted from the Toffees faithful.
With plenty of players getting involved in wishing Everton fans the happiest of holidays, it was Keane's deadpan showing that appeared to have caught the attention of the supporters, who went on to ridicule the centre-back – with some even comparing it to his performances on the pitch.
Keane can be seen heavily wrapped up in warm Everton gear wishing fans 'a great Blue Crimbo' and thanking them for their support.
While the likes of Bernard and Yerry Mina took to the task of wishing a happy Christmas in a more light-hearted manner, Keane's efforts seemed rather forced – which did not go unnoticed by these fans:
Have to say Michael Keane is just as awkward on camera as he is defending. #EFC #BlueCrimbo

— Royal Blue Mersey (@RBMersey) December 25, 2019
Michael Keane looks like he's being held hostage 😂

— Big Fella Yerry (@MainManMina) December 25, 2019
Michael Keane looks like he's being forced to speak against his will. Which isn't too disimilar from his performances this year

— Joe (@Joe3Carroll) December 25, 2019
Love it … but Keane looks like he had a gun pointed at him doing that 🤣🤣

— Maxwell Silverhammer (@maximossilver) December 25, 2019
Michael Keane needs a beer.

— Vod Kanockers (@the__614) December 25, 2019
Michael Keane doesnt celebrate christmas but it says on his contract he gets extra pay for that message

— Harry (@h_army360) December 25, 2019
Michael Keane there with as much passion as he shows on the pitch

— Alex (@AH1878) December 25, 2019
Is Carlo Ancelotti cut out for a job like Everton?
Yes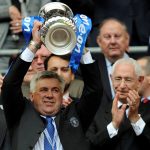 No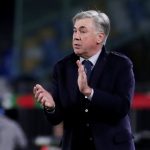 Everton fans, what are you wishing for the team over Christmas? Let us know below!