Newcastle United
Fans react after Kenedy gets away with no ban at all after shocking challenge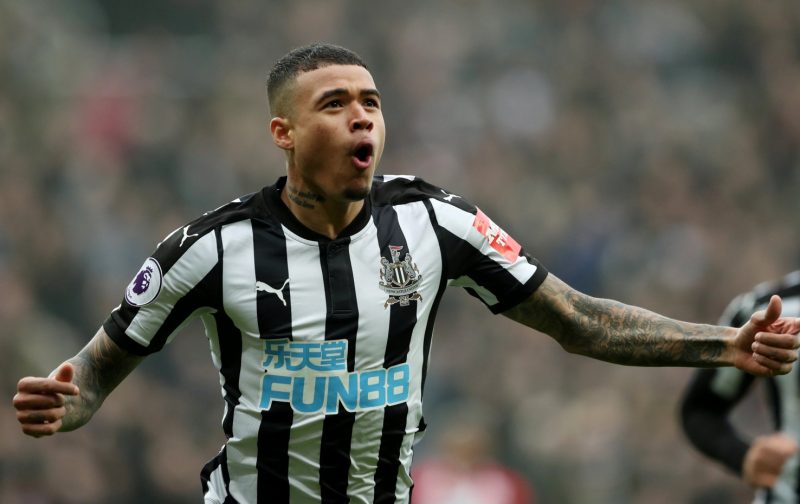 After the news that Newcastle midfielder will not face a retrospective ban for his kick on Cardiff midfielder Victor Camarasa, fans have taken to Twitter to vent their spleen.
The Brazilian player swung a leg out after a challenge half an hour into the game, with referee Craig Pawson awarding a free-kick to The Bluebirds. However, because the kick was dealt with in the game, there cannot be any retrospective action.
This has caused dismay amongst fans, who have brought into question the entire system that allows players to get away with actions like this. Very few people would argue that this was not a red card in the game, so for Kenedy to go completely unpunished is a stroke of luck.
Kenedy went on to miss a penalty in the final stages of the match, as his side sent went on to draw 0-0 at the Cardiff City Stadium.
Here's what the fans had to say:
No retrospective action for Kenedy…
I don't care if a free-kick was given at the time, something is wrong if he can get away this. Sets a bad example to kids #NUFC pic.twitter.com/R9yyByn887

— Nathan Albon (@NathanAlbon) August 20, 2018
Shocking decision – makes a mockery of retrospective rules.

— Neil (@neil45106205) August 20, 2018
how… he literally turned round and booted him in the leg… red card all day long if the ref wasn't incompetent even though he was looking right at it from 3 yards away

— Sheppo (@sheppard_jack98) August 20, 2018
Great decision, bringing back old time football when lashing out is fine

— Steven (@StevenUtd_) August 20, 2018
Presumably this is because it's a bigger punishment for Newcastle to have him playing?

— Leslie Stoddart (@leslie1976) August 20, 2018
Ridiculous decision

— _ (@EtheridgeEsque) August 20, 2018
Ridiculous. This incident will be used as an argument to overturn other similar cases. FA had an opportunity to make a clear ruling on it, instead they've probably invited more confusion.

— Gilles (@GrimandiTweets) August 20, 2018
He deserved a ban ngl. He's my boy but that was bad of him

— Ali (@TheBeardedRauI) August 20, 2018
Wait, what? He literally booted him in the shin!

— Ryan Elliott (@RyanEJourno) August 20, 2018
I'll remember that, knowing I can boot someone with no action will be handy

— Lewis Graham (@Lewis_Graham96) August 20, 2018
Therefore all players can now kick anyone off the ball and not receive any punishment!! Seems fair!!!

— Jonathan Blackmore (@Jonblackmore71) August 20, 2018
Excellent news.

He should. He literally kicked him.

But excellent news nonetheless

— Mitchell Phillips (@mitch_p9) August 20, 2018
'Chellenge?' You mean a 'blatant boot off the ball?'

— Nick Skinner (@NickSkinner_) August 20, 2018
Like what the TT have on offer? Sign up for more notifications!