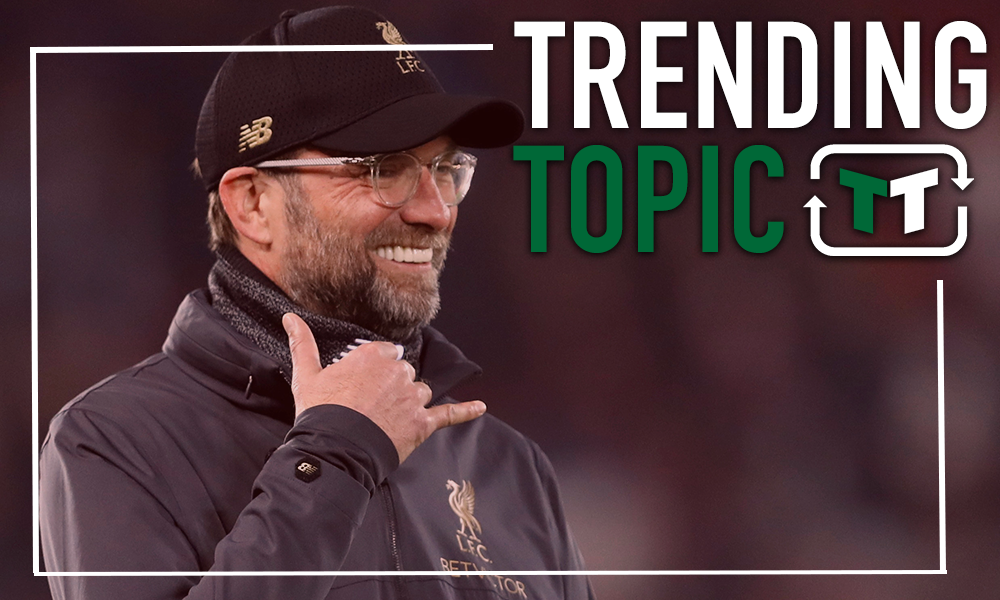 When Brendan Rodgers left Liverpool, it was tough to predict what was to come. The Reds had struggled for weeks leading into his departure, and they looked a shadow of the team that had challenged for the Premier League title under the boss. 
Jurgen Klopp arrived in October, but despite his success over in Germany, the jury was still out. Winning trophies had never been his forte, whilst the Liverpool squad was clearly regressing at a rapid rate of knots. Big changes were going to be required to turn the Reds into a Premier League force, and they needed to come fast.
Within days of moving to Anfield, Klopp got his first taste of Premier League action against Tottenham in a 0-0 draw. It was a game that did hint at what was to come, with a clear difference in terms of style of play on display for the Reds. This was picked up upon by many Liverpool supporters online, with fans reacting to Klopp's first game in charge fairly positively. Little did they know, however, what was to come…
@LFC Positive result.

— Nathan (@rwnath) October 17, 2015
@LFC Considering the circumstances,good result.JK YNWA

— Roy O (@cro1) October 17, 2015
@LFC I can see a very different attitude from our players, give Klopp more time and this time will shine #wellplayedlads #TOTLIV

— Diego Arellanes (@thatmetalcunt) October 17, 2015
@LFC good result for first game and impressive high pressing display

— Bow (@BowLFC) October 17, 2015
@LFC I haven't seen Liverpool play that hard in a while. I don't care what anyone says. GREAT MATCH!

— Jon Boyd (@sweetwaterpapi) October 17, 2015
Mignolet was MOTM  well one point is better than nil. Still a long way to go #KloppLFC @LFC

— Éliane Abi-Sleiman (@ElianeA_S) October 17, 2015
@LFC A good start for Mr Klopp and it is still to see what Mr Klopp want from his players

— Jens Reichmann (@ReichmannJens) October 17, 2015
@LFC tbh I'm really happy with the result. Didn't expect to much but a clean sheet away to Tottenham is good. #FirstStep #YNWA

— PAULINGER (@paulinger_music) October 17, 2015
@LFC hard fought draw. Good performance under strength team. Hope for good things ahead

— Daniel Rocky (@RockyRocdanny) October 17, 2015
@LFC can definitely see a difference! The boys were brilliant today. Can't wait to see what else Klopp has for @LFC. #YNWA

— Andy Velez (@a_velez5) October 17, 2015
The early stages of Jurgen Klopp's gegenpress style of play were utilised by his team, and the Reds were able to hold Tottenham -who were in good form – to a draw. Given the poor form that Liverpool had endured in the preceding weeks, that was largely considered a good result.
Despite the positives that came from the game, however, fast forward a few years into early 2019, and it's fair to say that the Liverpool fans that watched their team battle to a 0-0 draw with Tottenham couldn't have predicted what was to come.
Jurgen Klopp took a while to get his team playing as he wanted them to, but as the years passed and the manager put his mark on the team, performances improved and so did results.
Now, Liverpool are now another vision of their former selves shown in Jurgen Klopp's first game – but for all the right reasons. They're almost unrecognisable from the team that Brendan Rodgers left behind and they're now near the top of the Premier League table challenging for a title.
Jurgen Klopp recently spoke to Die Welt am Sonntag (via The Times) about his plans for Liverpool, and he's highlighted that he'd like to stay until his contract ends in 2022 at the very least. Who could have expected when the German boss – who had no experience of England – moved to Liverpool in 2015, that a title challenge would be ongoing and plans would be being put in place for years down the line?
Klopp had an immediate impact at Anfield – but the long term influence has been remarkable.
Liverpool fans – do you remember this game? What did you think of Klopp then? What do you think of Klopp now? Let us know below!