The injury to Andriy Yarmolenko has opened up a fresh set of concerns for Manuel Pellegrini. Now, not only does he have to deal with a struggling team, but he's also got to turn things around without one of his most important attackers.
Fortunately, the Chilean does have options.
The West Ham squad is full of quality and depth, and whilst he may have to call on players that may otherwise not be involved, at least Pellegrini has players that he can look to in search of added inspiration.
But who might come in to replace Yarmolenko, and how will that impact upon West Ham tactically this term?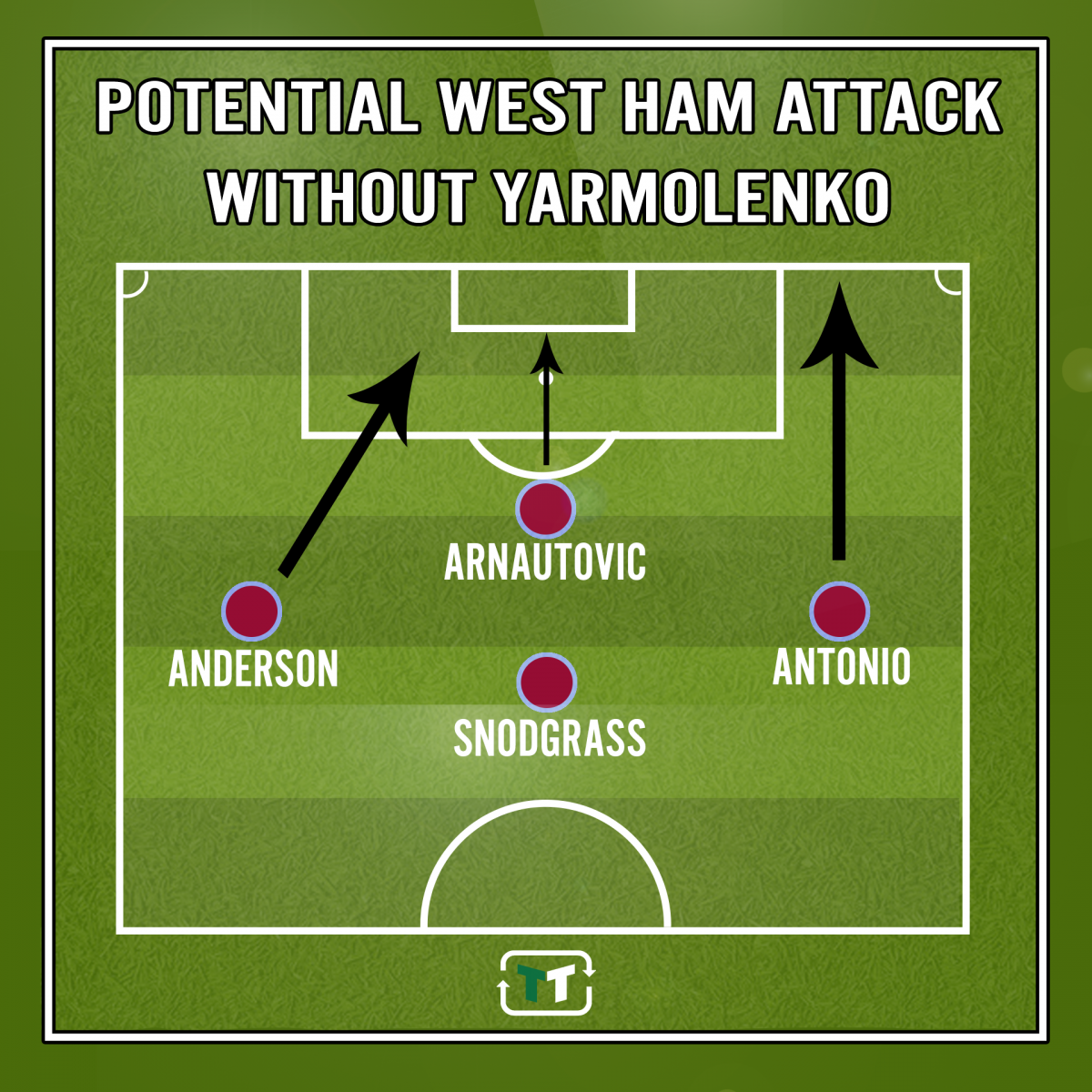 For the most part, the personnel in the West Ham attack will largely remain the same. Leading the line, Marko Arnautovic is still the best man for the job. He's been one of the Hammers' best players this season, and he'll continue to be going forward. He came close a few times over the weekend, and it will be up to the players around him to ensure that he's always provided with service and supported adequately. If he's given opportunities, he will take them.
Felipe Anderson is another player that has been a regular this season, and he'll have to step up considerably. In terms of name-power, Anderson is the most recognisable name in this attack, and it's time for his form to reflect that. On his day, there is simply nobody better at the club, but it just hasn't been his day often enough. He's got more experience at the highest level than anyone else in this attack, owing to the injury to Yarmolenko, and he needs to impress.
Robert Snodgrass has been brought back from obscurity under Pellegrini, and his task will be to pull the strings in the midfield. He's not been amazing over the last few months, but the talent is clear for all to see, and the onus will be on him to impress.
In place of Yarmolenko, Michail Antonio seems like the right choice. Pellegrini does have other options, both young and old, but Antonio offers a decent balance of the two – and he's got something to prove. He was a regular for the Hammers a couple of years ago and even earned an England call-up, but it's been all downhill since. He's a fast and energetic runner, and he can make an impact at both ends of the field. His focus will be on attacking, though.
Tactically, West Ham will likely remain much the same. Antonio offers more in the way of hard work than Yarmolenko, but it's important that he maintains an offensive threat; as it's so important that their forward gets service.
Thoughts?