Arsene Wenger's last years at Arsenal were marred by poor performances and inconsistency. The Frenchman had a simply stunning start to life at the Emirates, and for much of his reign, the Frenchman was undeniably the best man for the job.
However, over time, his Arsenal paradise began to wind down.
Other than a couple of FA Cup wins, the Gunners achieved very little in their final years, with Wenger very much stumbling over the line in his pursuit of a top-four finish, and eventually losing at the final turn.
There was always a feeling for much of his tenure, however, that the Gunners were only ever one major signing or two from glory. Wenger wasn't given much money for many of his final years, but he always managed to keep them above water, and it always seemed to be a case of the club falling just short.
He was afforded a number of signings at various points, but players like Granit Xhaka, Alexis Sanchez and Mesut Ozil – though brilliant in their own right – didn't quite scratch the itch that was plaguing the Gunners.
What they desperately needed was a central midfielder with a bit of bite. Arsenal had that early on in Wenger's reign in the form of Patrick Viera, who spent a number of years as one of Europe's best ball-winning midfield players. It's no surprise, then, that they haven't been able to win the Premier League since he was in the team. They just haven't been able to replace him.
Until now.
In a cruel twist of fate, Arsenal have seemingly managed to find the perfect replacement for Patrick Viera in the form of Lucas Torreira – and they found him just months after Wenger departed.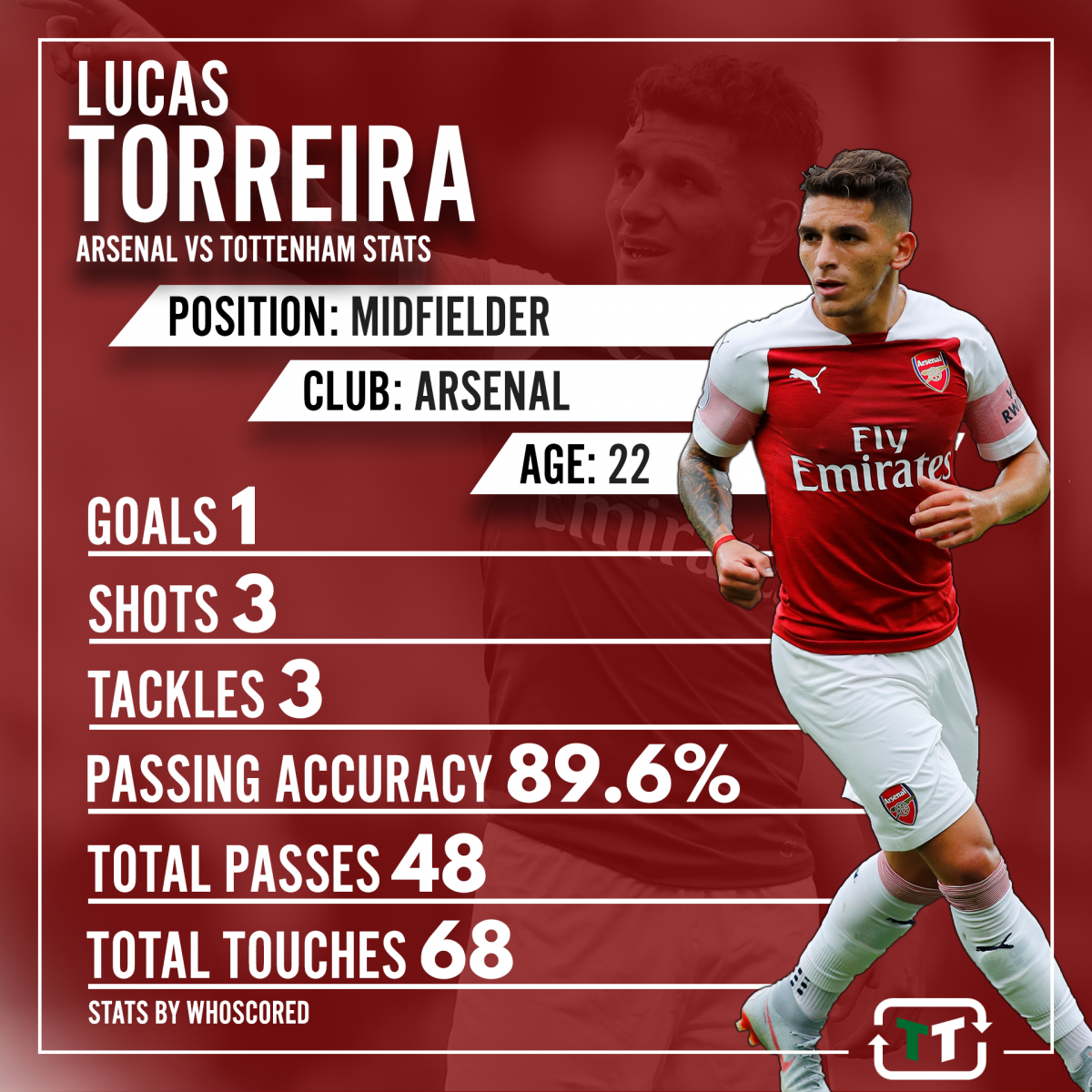 Though far more slight in his frame than Patrick Viera, Torreira is able to produce many of the same qualities that made Viera such a useful option for the Gunners. He's a constant battler and tackler, and he's hesitant to ever give anyone more than a few seconds on the ball. He's also aggressive, and whilst this can land him in trouble occasionally, it also gives Arsenal's midfield a sense of power and control that hasn't been seen in there for years.
His best performance of the season came last weekend against Tottenham, where he bagged a goal, alongside 48 passes and 68 touches. With 3 tackles, too, the midfielder was involved in every facet of the game, and the way that he was able to control the Tottenham attack was incredible. He repeated that against Man Utd on Wednesday, and though perhaps not quite as vital to Arsenal's cause, the 22-year-old was still one of the best players on the pitch against the Red Devils.
Torreira has allowed Arsenal to flourish once again. He's the perfect central midfielder, and he's quickly become the focal point of this team, contributing both going forward and defensively. Arsene Wenger had an incredibly talented squad at his disposal, but far too often, he lacked glue to hold it together.
In Torreira, Unai Emery has immediately found the man that he needs, and his project is far closer to completion already as a result.
Thoughts?