Leicester City: Fans question why Tottneham's players aren't getting stick like their's
Many Leicester City fans have discussed why Tottenham Hotspur's players haven't had the same backlash as some of their players did when Claudio Ranieri was sacked in 2017.
Can you compare Ranieri and Pochettino in their sackings?
Yes
No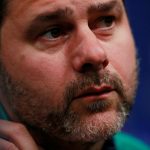 At the time of Ranieri's departure, there was criticism from places like the Independent. Indeed, Ian Herbert even described it as a 'disgusting act of felony' and the Telegraph reported at the time that some players were angered by his methods towards the end despite winning the Premier League title in 2016.
Well over two years on from the incident and something of a similar ilk has happened down in North London. While Spurs reaching the Champions League final isn't quite the Foxes winning the Premier League, it is still a monumental achievement, and there's an argument both have been victims of their own success, something argued by the Independent recently.
The season after the year of greatly overachieving is always going to be harder. Your expectations have risen and sometimes they can be too difficult to uphold – especially in modern-day football where managers do not tend to last more than a few seasons.
A Leicester fan on Twitter, @mnorman1985, asked why Spurs' players aren't getting the same level of criticism for their role in getting the manager sacked.
Here are some of the responses below…
https://twitter.com/BeliallTM/status/1197475541101826048?s=20
I wondered if Spurs would get the same amount of criticism Leicester got when we sacked Ranieri(hero). Mind you Spurs haven't won anything.Clearly not! Double standards

— Andy LeButt (@highwoodfox) November 20, 2019
Because its widely accepted that Erikson, Vertonghan and Toby what's his name have down tooled, and are running out their contracts along with Rose, not new news

— Gareth Edwards (@BigG2369) November 20, 2019
Because of London bias

— Lee Pallett (@PallettLee) November 20, 2019
It was the same with Man U. Look how they suddenly picked up under Ole. Initially… None of them were snakes!

— Fatman (@The_Andy_Goode) November 20, 2019