Liverpool: National team director expresses confusion about Xherdan Shaqiri's situation
Switzerland national team's director Pierluigi Tami has expressed his confusion and lack of clarity about the situation of Liverpool's Xherdan Shaqiri.
Shaqiri has made only five appearances in all competitions this season for Liverpool and the Swiss star has featured only in a couple of Premier League games and just as many Champions League games too (as per Transfermarkt).
Is Shaqiri's time up at Liverpool?
Yes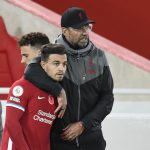 No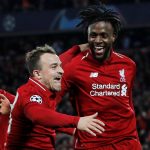 Confusion about Shaqiri's situation at Liverpool
Tami, who oversees the Swiss national team, recently told Blue News (via Sport Witness) about the situation of Shaqiri and how he finds it confusing. He admitted that he has no idea or information about the Reds winger being injured or struggling with his fitness – even though he trained just before Switzerland's game against Ukraine in the international break.
He said:
"We don't know what's going on with Shaqiri. He trained with us normally until the last day and would've been ready for the Ukraine game. We are in contact with the Liverpool team doctor but we have no specific information about the injury,"
Shaqiri had featured for Switzerland in the nation's UEFA Nations League game against Spain, but he was missing during their game against Ukraine. He hasn't featured for Liverpool since his game against Spain for Switzerland, and Sport Witness claim there is 'controversy on the way'.
Beginning of the end for Shaqiri at Liverpool?
While Shaqiri has been under-utilised this season, the 29-year-old wasn't used too much by Jurgen Klopp's men last season as well. He made only 11 appearances in the 2019/20 campaign and scored one goal in the Premier League (as per Transfermarkt).
This shows that he isn't exactly a wanted player at the club despite his quality. Considering the lack of information to Switzerland, it might be an indication of the fact that Shaqiri isn't at the top of their list of priorities at this time. His current deal at Anfield runs out in the summer of 2023 and there was interest in him from Germany and Italy. So moving him as soon as possible could make sense for the Reds to gain a profit and reinvest.
In other news, Liverpool have been linked with a 24-year-old Premier League midfielder – read more about it here.