Liverpool: Fans slam journalist's thoughts on Steven Gerrard
Steven Gerrard is not only one of the Liverpool's greatest-ever players, but he is also surely amongst the best to ever grace the Premier League.
The England international was the captain of the Reds for several years during the 21st century, and he ended up making 710 appearances in all competitions for the Anfield outfit. During that time, he managed 186 goals and 114 assists – as per Transfermarkt – and was arguably the driving force behind their Champions League win in 2005.
Kevin de Bruyne is one of the current best midfielders not only in England, but in world football. His creative ability is stunning, with him having made at least 15 league assists in each of the last three campaigns. However, it would be hard to argue he is better than Gerrard.
Who is better?
Steven Gerrard
Kevin de Bruyne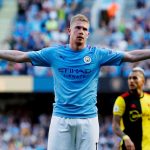 Not for Jack Pitt-Brooke, though. He says that the Belgium international is actually an improvement on Gerrard in a number of areas – as you can imagine, this has not gone down well with the Liverpool supporters. They have taken to Twitter to share their thoughts, and you can see some of the best comments from the social media platform below.
That's enough Internet for one day

— (@AlexFtbl) April 29, 2020
De Bruyne is a great player but to suggest he's somehow better than Gerrard in every single department is quite possibly the stupidest thing I've ever heard. Gerrard is arguably our best ever player and during an era of inconsistent quality. We will probably never have as good!

— DJ (@DJJ_1981) April 29, 2020
KDB better all long passer and dribbler
Gerrard better leader, defender, goalscorer, crosser, set piece taker, big game player and overall better player. De bruyne is world class but let's not be silly now

— (@Ddm195) April 29, 2020
This is honestly the worst thing I've heard to this day. Horrendous opinion.

— Jubaer (@z__lfc) April 29, 2020
Strength- Gerrard
Pace- De Bruyne
Passing- Gerrard
Scoring- Gerrard
Heading- Gerrard
Leading- Gerrard
Versatility- Gerrard
Played in far worse teams – Gerrard

De Bruyne is a class player, and if fit is arguably best in the league (along with Van Dijk) but dont be stupid.

— It was John (@OwnHalfAlonso) April 29, 2020
Steven Gerrard played in nearly every position except goal keeper in the 2005 final and single handedly won us the European cup that season yet needs to be more tactically aware who is this fool??

— luke mccluskie (@maddog983) April 29, 2020
Let us know what you think!