Liverpool: Fans delighted by Ligue 1 news
Liverpool fans are still waiting to see what will happen to the rest of the Premier League season.
Before the current pandemic saw the season suspended, the Reds were top of the table by a huge 25 points – the biggest such margin in the history of the top flight – and were just two wins away from confirming their status as champions. Now, not only is it not known when the season will resume, it could well be the case that it doesn't at all.
In the Netherlands, the Eredivisie has already been cancelled, with no champions. That will have likely worried the Reds, but the latest news from France will restore their confidence. Ligue 1 has also been ended, but PSG are said to have been given the title anyway.
Do you think the season will be completed?
Yes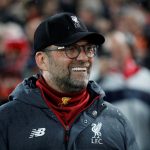 No
As you can imagine, this has the club's supporters delighted as it gives them hope that they will be crowned Premier League winners, and they have taken to Twitter to share their pleasure. You can see some of the best comments from the social media platform below.
I can smell the fume from rival fans already.

— Michael (@TheSqueeze80) April 30, 2020
The tears will be delicious.

— 爪卂ㄒ 乃ㄩ尺ㄒㄖ几 (@d34thfr0m4b0v3) April 30, 2020
@Mustyyie22 https://t.co/iEZq0IKI8B pic.twitter.com/VgABc2lbqk

— Forsaken Rage (@titulardelavida) April 30, 2020
LIVERPOOL ARE CHAMPIONS OF THE WORLD ACTUALLY https://t.co/N1s60wPvGi

— LA QUICA (@IamThe_Vid) April 30, 2020
Does this mean what I think it does 👀👀👀 https://t.co/mf2YuXKwnl

— Jas (@BeardmanLFC11) April 30, 2020
I'm having a ball!

— MDAWINI-LFC (@PrinceMdawini) April 30, 2020
Let us know what you think!