Liverpool: Fans applaud Trent Alexander-Arnold's social media post
Liverpool fans have heaped praise on right-back Trent Alexander-Arnold after his social media post which reflects on the past decade.
Who's the better defender?
Trent Alexander-Arnold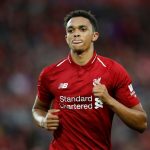 Aaron Wan-Bissaka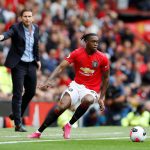 The 21-year-old has been a critical part in the Merseysiders' success on the pitch, with Jurgen Klopp's side picking up a trio of trophies across the continent in 2019 alone.
Alexander-Arnold, who was brought up in the area of West Derby in Liverpool, won the Champions League in Madrid, the Super Cup in Istanbul and the Club World Cup in Doha.
He recently had a mural emblazoned on the side of a house situated near Anfield, which was arranged by a Liverpool FC fan podcast The Anfield Wrap to commemorate an incredible season and to inspire youngsters.
As 2020 looms, the youngster posted the following on his Twitter page.
Happy new year everyone 😉

Beginning of End of
the decade. the decade. pic.twitter.com/alsBVWxFxX

— Trent Alexander-Arnold (@trentaa98) December 30, 2019
Supporters loved what Alexander-Arnold said and made their feelings clear on social media. One fan described him as "generational", while another said that he is a "future captain" that is learning from the best.
Here you will find some of the best comments from Liverpool fans:
Future captain learning from the best ⭐⭐⭐⭐⭐⭐ pic.twitter.com/8FygMn7aQc

— ☆™ (@LfcJaden) December 30, 2019
generational.

— harriet (@hxrrieett) December 30, 2019
What a tweet❤️😂

— Alex🦋 (@lfcalexx) December 30, 2019
My RB🥰🥰🥰

— ‎ً (@TheImmortalKop) December 30, 2019
This never gets old 😂 pic.twitter.com/RiBZrPHQ3S

— Jürgen Meister🇩🇪 (@SS_LFC) December 30, 2019
AWWWWWWW 😭❤️

— mboopi (@boardmanburner) December 30, 2019
my rb 💉 pic.twitter.com/lWTquS7S9S

— ‏ً (@ftbltom_) December 30, 2019
Do you see Trent Alexander-Arnold as a future captain? Join the discussion by commenting below…