Liverpool: Fans appreciate Raheem Sterling's condemnation of boos for Joe Gomez
Raheem Sterling came to the defence of England team-mate Joe Gomez following last night's Euro 2020 qualifying win over Montenegro.
The Liverpool defender, who was involved in an altercation with Sterling earlier this week, was booed by some spectators at Wembley when he was brought on as a 70th-minute substitute, as noted by Sky Sports.
After the match, the Manchester City winger and ex-Reds player took to Twitter to condemn the hostile reaction towards Gomez during the England match. [via @sterling7]
especially after a difficult week for him to be booed when he came on tonight was wrong.

I've taken full responsibility and accepted the consequence.
I felt as though I had to say this get home safe every one ❤️ #Euro2020

— Raheem Sterling (@sterling7) November 14, 2019
The two players squared up to one another during Liverpool's 3-1 win over the Premier League champions last weekend and then had an argument with each other at England's training base in St. George's Park, which led manager Gareth Southgate to not consider Sterling for selection for the Montenegro game, as reported by Sky Sports.
Sterling, who reportedly grabbed Gomez around the neck during their St George's Park altercation, subsequently apologised for his actions, while the Liverpool defender apparently asked Southgate not to send the winger home from the squad over the incident.
These Liverpool fans on Twitter were appreciative of Sterling's post-match tweet defending Gomez:
As an @LFC fan watched @sterling7 from a very young age – but this is absolute class and 100% correct .just highlights the mentality of some so called football fans #wananabootheplayersstayathome , also @J_Gomez97 this week has showed how professional he is – potential superstar

— PeoplesMan390 (@Worldofglass1) November 15, 2019
Fair play. Just sad that you've needed to tweet this.

— Tim Bolton (@timbolton1) November 14, 2019
Well done @sterling7 . Football fans can be fickle, we all know that, but I'd never ever boo my own player.

— David Keatley (@RedCormorant71) November 15, 2019
Thank you for this Raheem.

— 🔴Amz LFC🔴 (@96Amz) November 14, 2019
Some people may not like this player but he just proved he's a better human being than those England fans booing Gomez.

— The Boy's Dad (@IanRainford70) November 14, 2019
Glad you did this. Though unfortunately the country's deep rooted hatred for the city of Liverpool means it will fall on many deaf ears. You're human and people make mistakes. Keep being classy son.

— Phil the LFC Fan (@PhilTheLFCFan) November 14, 2019
Fair play I can respect this.

— LFC Views (@Mobyhaque1) November 14, 2019
Respect Raheem 👏🏼

— Cathal ⭐️⭐️⭐️⭐️⭐️⭐️ (@lfcxcathal) November 15, 2019
Was Southgate right to drop Raheem Sterling?
Yes
No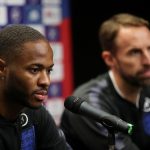 What did you make of Sterling's public support of Gomez after the England match? Have your say by commenting below!