Liverpool: Fans fume over Richard Keys allegation
Liverpool fans are furious at sports presenter Richard Keys after he dropped a bombshell regarding Sadio Mané and Mohamed Salah…
The news anchor has claimed that Liverpool's African superstars 'deeply dislike each other' in a recent shock allegation. The pair had a heated moment on the pitch when Mané gave Salah a mouthful for not passing the ball in their match against Burnley. However, the moment quickly passed and the two have not given any hint that there's bad blood between them after Jurgen Klopp told talkSPORT the problem was over and done with.
"Both would be a whole lot happier playing in a team without the other," Keys wrote on his personal blog. "Do Liverpool sell one and keep the other? In an ideal world. But I've got a feeling both could be on their way out."
As a result, a number of fans are outraged at the 62-year-old's comments, with many questioning how he would even know this kind of inside information.
Do you think Mo Salah and Sadio Mane have a problem with each other?
Yes
No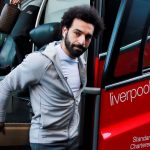 The majority of supporters are laughing at the 'attention seeking drivel' Keys has written, while others are fuming over his statement. One fan has said 'whatever comes out of his mouth is rubbish.'
— DCV (@AlissonEra) March 10, 2020
— João Rafael🇵🇹🇪🇺 (@elemento_jmrp) March 10, 2020
Rubish! Whatever come out from his mouth is rubish @richardajkeys

— Indri Richardson (@indipoke) March 11, 2020
Who's this clown?

— Tal 🇵🇸LFC6⃣ (@tensouls) March 11, 2020
Imagine the guy sits in a studio, probably does not know either Mo or Sadio personally but wants us to believe he played counsellor to both who confessed to him, the messiah, their profound hatred for each other. The inside information only he has… attention seeking drivel

— Sachin Talwar (@Tull865) March 10, 2020
Just another name to add to muted words. Thanks for the reminder

— ⛔ (@prolificLFC) March 10, 2020
Surprise surprise pic.twitter.com/XYrwnaRxfL

— The Red Lion (@TheRedLi0n11) March 11, 2020
What do you make of Richard Keys' comments, Reds? Join the discussion in the comments below!