Liverpool: Fans get nostalgic over Origi's Everton heroics ahead of Merseyside derby
Liverpool take on Everton at Anfield on Wednesday as they look to maintain their eight-point lead at the top of the Premier League.
With that in mind, there is no better time than now for the Reds to look back at Divock Origi's match-winner in the same fixture exactly a year ago.
Which competition should Liverpool prioritise?
Club World Cup
Carabao Cup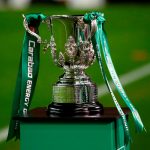 After some very unconvincing goalkeeping from Jordan Pickford, the 24-year-old managed to pop up at the death to head home and give Liverpool all three points in a 1-0 win.
In the grand scheme of things, it did not make much difference in the title race as Manchester City went on to claim the Premier League crown. Nevertheless, it was still a great moment for Origi, who went on to record more great memories that season after knocking Barcelona out of the Champions League on his side's way to European glory.
Should the Belgium international play on Wednesday, supporters will undoubtedly be hoping for more of the same.
Have a look at what they have been saying about Origi's goal a year on below…
Remember when we all though this is the best thing he'd ever do. Then he goes and ruins Barcelona football club.

— – (@chielinilookout) December 2, 2019
— Ignite-HD™ (@hd_ignite) December 2, 2019
Remember watching the ball come off VVDs boot and turning away in disgust.
To turn back and see Origi head the ball in.
At 45 that was the best live celebration of a goal I've witnessed.
What an assist by VVD, world class.

— Dominic Kennett (@DomKennettLFC) December 2, 2019
I still feel the euphoria of this goal

— ابتسام فكرون (@beesa45mohammed) December 2, 2019
Rebirth of a legend

— Sᴏᴍᴀɴ Pᴏᴛʜᴜᴠᴀʟ (@somanpothuval7) December 2, 2019
Iconic

— jord (@The_Unbearables) December 2, 2019