Liverpool: Fans go crazy for Wolves' Twitter dig at Manchester City
Lots of Liverpool fans have been reacting to a hilarious tweet from Wolves' official account, as they took a sly dig at Manchester City after Friday night's clash between the pair.
Even though they weren't playing on Friday, Reds fans will have been watching on eagerly as Manchester City travelled to Molineux, with the champions' defeat leaving them a massive 14 points behind Jurgen Klopp's side.
And, much like how Barcelona's Twitter mistake went viral after their defeat at Anfield, the Sky Blues made a similar error against Wolves on Friday.
With the score at 1-0 courtesy of Raheem Sterling's penalty rebound, the club's official Twitter account posted an image of an anguished Rui Patricio and an elated Sterling with the caption: "If you can keep your head when all about you are losing theirs."
Of course, the visitors did not keep their heads and ended up losing the match in spectacular fashion, conceding twice in the final ten minutes thanks to some truly abysmal defending, leading Wolves to fire back with a 'mind-blown' emoji.
https://twitter.com/Wolves/status/1210677645974949888
Liverpool fans have been revelling in their seemingly insurmountable gap at the top of the table, and they can't get enough of Wolves' dig at their title rivals…
LMAOOOOO https://t.co/5Ck8garw9N

— Josh (@LFCJosh23) December 28, 2019
— FM⚡️ (@FirminoFxm) December 27, 2019
GARGANTUAN DUB CITTYYY IN THE MUDDDDDD

— 🏆🏆🏆🏆🏆🏆 (@Ddm195) December 27, 2019
😂😂😂😂

— بسام عبدالله (@basm__LFC) December 27, 2019
Announce admin pay rise

— Champions of the World (@anfieldrdultras) December 27, 2019
— connor (@LiverpoolPrime7) December 27, 2019
Number of times Wolves have done City this year. pic.twitter.com/fSIB2Y6tbD

— Craig Uys ⭐️⭐️⭐️⭐️⭐️⭐️🇿🇦 (@LantanaAce) December 27, 2019
we love u wolves <3 ty for helping Liverpool out 😍😍😍😍😍

— jamie daddy (@skiller703) December 27, 2019
— LFC_Minto🔴 (@neilminto) December 27, 2019
Is Adam Lallana worth keeping for Liverpool?
Yes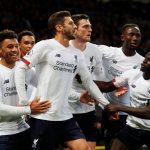 No