Liverpool: Fans look back at John Barnes' stunner against Arsenal
Liverpool fans have been looking back at legend John Barnes' stunning free-kick against Arsenal during their 2-1 win in 1989, which occurred 30 years to the day on Tuesday.
It was the second meeting in the calendar year and the first time the two teams had met after the Gunners won the title at Anfield just a few months earlier. Kenny Dalglish's side vowed for revenge as they aimed to take the Championship once more.
Which competition should Liverpool prioritise?
Club World Cup
Carabao Cup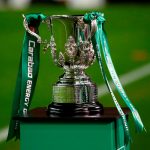 Steve McMahon gave the hosts the lead after seven minutes and Barnes missed a 24th-minute penalty which was saved by Gunners' goalkeeper John Lukic to keep the score at 1-0.
John Barnes did this 30 years ago today – anyone there? #LFC 🚀🔴 pic.twitter.com/GWvizrIIgj

— Carl Clemente (@clemente_carl) November 26, 2019
However, midway through the second half, Barnes would score a stunning free-kick which flew into the top corner to double Liverpool's advantage.
Alan Smith scored for the visitors with just 10 minutes to play, but it wasn't enough to get anything from the game.
The Reds would go on to win the Championship that season and the Merseyside club have not won a domestic league since.
Supporters have many stories to tell about the afternoon's proceedings. One fan said it "felt like revenge" after the heartbreak from Michael Thomas the season before. Another said that he attended with a Hillsborough survivor and that it was his first game back.
Here you will find some of the best stories from Liverpool fans:
🙋🏼‍♂️ Felt like revenge at the time for the last game of 88/89 season… that still hurts though!

— Kev O'Leary (@kevolfc) November 26, 2019
Yep, what a legend.⚽⚽⚽

— Mark Rogers (@evosharky) November 26, 2019
Yes, I was there. Beautiful free kick!

— Gordy Allan (@djgordy) November 26, 2019
When commentary was commentary. Great voice. Currrllleedddd. Get in.

— Paul Kent (@paulkent82) November 26, 2019
What a Hit & an epic free kick by our Mighty Mersey Red Legend @officialbarnesy 😎

— GERRARDINHO® Matt A (@GerrardinhoNo8) November 26, 2019
I was. I remember that game for another reason. I went with a Hillsborough survivor who would only stand at the back of the Kop instead of where we usually went. It was the first time back for him. We stsrted in the middle but he had a panic attack.

— Michaelevansuk (@michaelevansuk) November 26, 2019
Me and I remember my PE teacher raving about it the next day in school.

— ciara (@ciaraomahony722) November 26, 2019