Liverpool: Fans loved video of Jurgen Klopp after Leicester win
Liverpool extended their winning run in the Premier League to eight matches on Saturday, beating Leicester City 2-1 at Anfield thanks to a last-minute penalty converted by James Milner.
Does Jurgen Klopp need to win the league this season?
Yes
No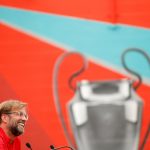 The Reds have been flawless in the league so far this term and already look like they can go the distance and win the title given their lead.
Manchester City have so far looked a shadow of their former selves, losing 2-0 at home to Wolves on Sunday afternoon to see Liverpool's lead at the top of the summit extended to eight points.
Jurgen Klopp is a hero on the red side of Merseyside, that much is clear after winning the Champions League. His passion, charisma and overall ability to get the best out of his players has taken Liverpool to a club labelled as 'nearly men' to the best team in Europe.
After the Reds secured a narrow victory against former manager Brendan Rodgers' current side, Leicester, Klopp was clearly ecstatic at full-time.
The German went over to the home fans and did his trademark three fist-pumps, which were, of course, caught on camera and later uploaded to Twitter.
Here's how fans reacted to the footage:
King

— Alim Takmaz (@alimtakmaz) October 6, 2019
Most passionate and the best manager in the world pic.twitter.com/9UHLc04XmV

— Saeesh (@Saeesh17) October 6, 2019
Never leave this club

— 6th times (@Z3Croz) October 6, 2019
Gave me goosebumps

— Chifu💯😝 (@CallMeChifu) October 6, 2019
Sent shivers down my spine

— Chris 🇬🇧🤝🇨🇦🤝🇺🇸 (@Chris89445588) October 6, 2019
Watching on a loop and can't stop 😁 pic.twitter.com/UU1BzNNx2d

— gazj73 🏳️‍🌈 (@gazj73) October 6, 2019
Legend

— yeşil29 (@roger9899) October 6, 2019
Liverpool fans, how much do you love this video? Comment below!