Liverpool: Fans praise Alisson Becker's scintillating form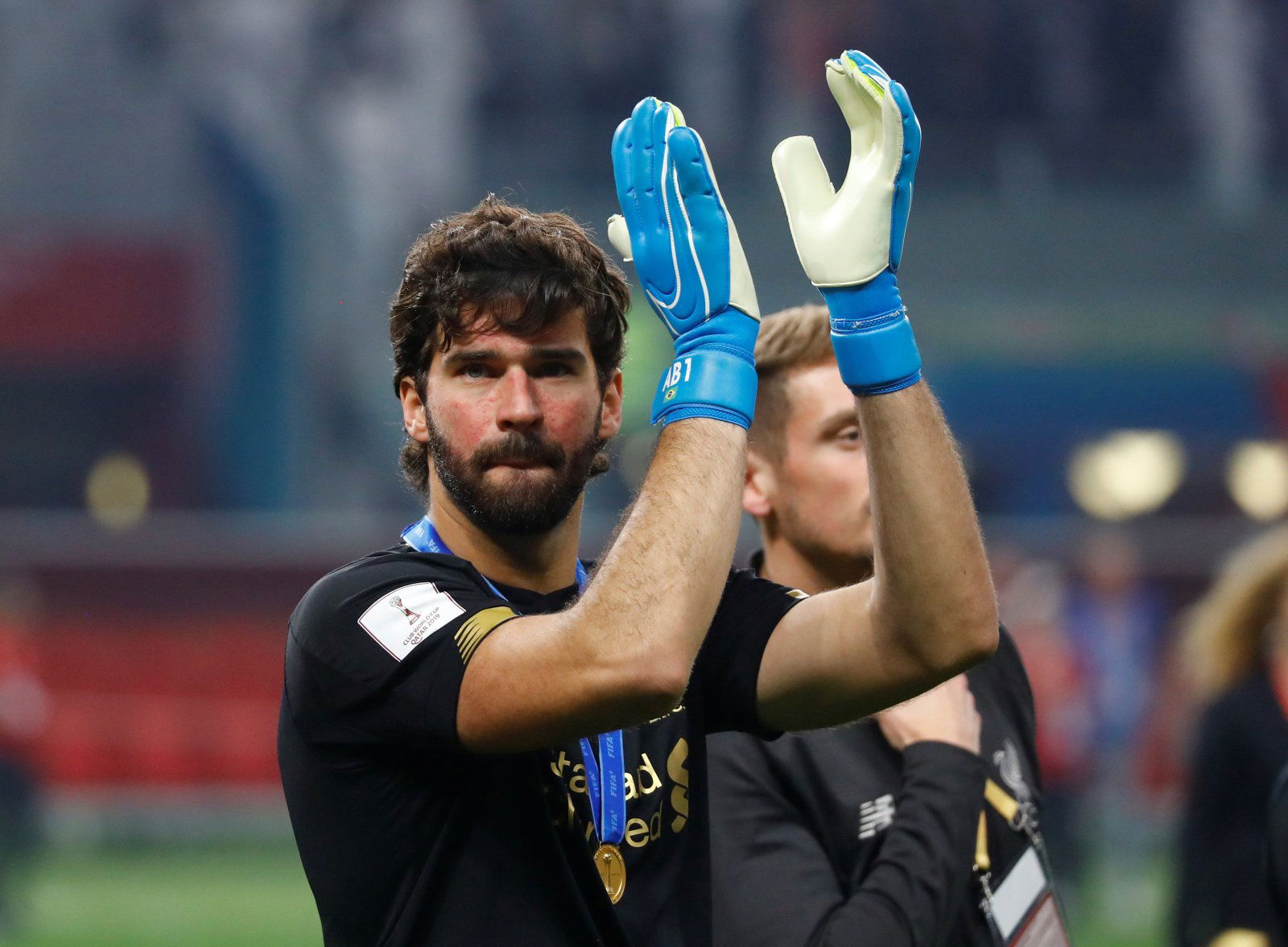 Liverpool fans reacted in glee to goalkeeper Alisson Becker and new statistics that highlight just how important he is to the Merseyside club.
The Brazil international managed to keep a clean sheet during his side's 1-0 win against Flamengo in Qatar to win the Club World Cup for the first time in the Reds' history.
This victory put the cherry on their 2019 cake, in what has been a remarkable year for Jurgen Klopp's side. The players have excelled by winning the Champions League in Madrid and the UEFA Super Cup in Istanbul before Saturday's affair.
Alisson has proved to be an intelligent piece of business from Liverpool since his £67m switch from Roma last season, and these statistics illustrate that.
Alisson Becker has played 5 "win or go home" matches for #LFC. Either finals or games where we faced elimination.
Flamengo
Salzburg A
Spurs
Barca H
Napoli H
In those matches he has saved ALL 26 opposition shots on target. Including 6 big chances 🔥

— Dan Kennett (@DanKennett) December 22, 2019
Supporters were delighted with Alisson's recent form when it mattered most and made their feelings clear on social media.
Here you will find some of the best comments from Liverpool fans:
Thats an impressive stat, the true definition of a big game player. He always seems so calm and composed, even when he makes a mistake he doesn't let affect him which shows the kind of mental strength needed for those type of games.

— Rodney Ayer (@ascr7691) December 22, 2019
That's mental. I've become so accustomed to it, I rarely notice how good he is – it's so normal for him!

— SR: Cloud Six (@KloppsReign) December 22, 2019
Just goes to show what having a quality keeper can do for the team. No disrespect to Mignolet or Karius but they're not of the same standard as Alisson.

— Alice Nutter (@AliceNutter1612) December 22, 2019
The purchase of Allison was a blessing to us

— Pizzman Jersey (@Pizzmantwit) December 22, 2019
Nice stat

— Brian McBrian (@brian_mcbrian) December 22, 2019
@ilikecheese5001 crazy performances when it really matters 👌

— Jordyyy (@JordyFitchett4) December 22, 2019
Beast

— Leons Dad (@Leons_Dad0815) December 22, 2019
Mad stat !

— Sumit Sharma (@lfcsumit) December 22, 2019
Watch World Champions Liverpool travel to Leicester City on Boxing Day with Prime!