Liverpool: Fans react as Trent Alexander-Arnold's mural is vandalised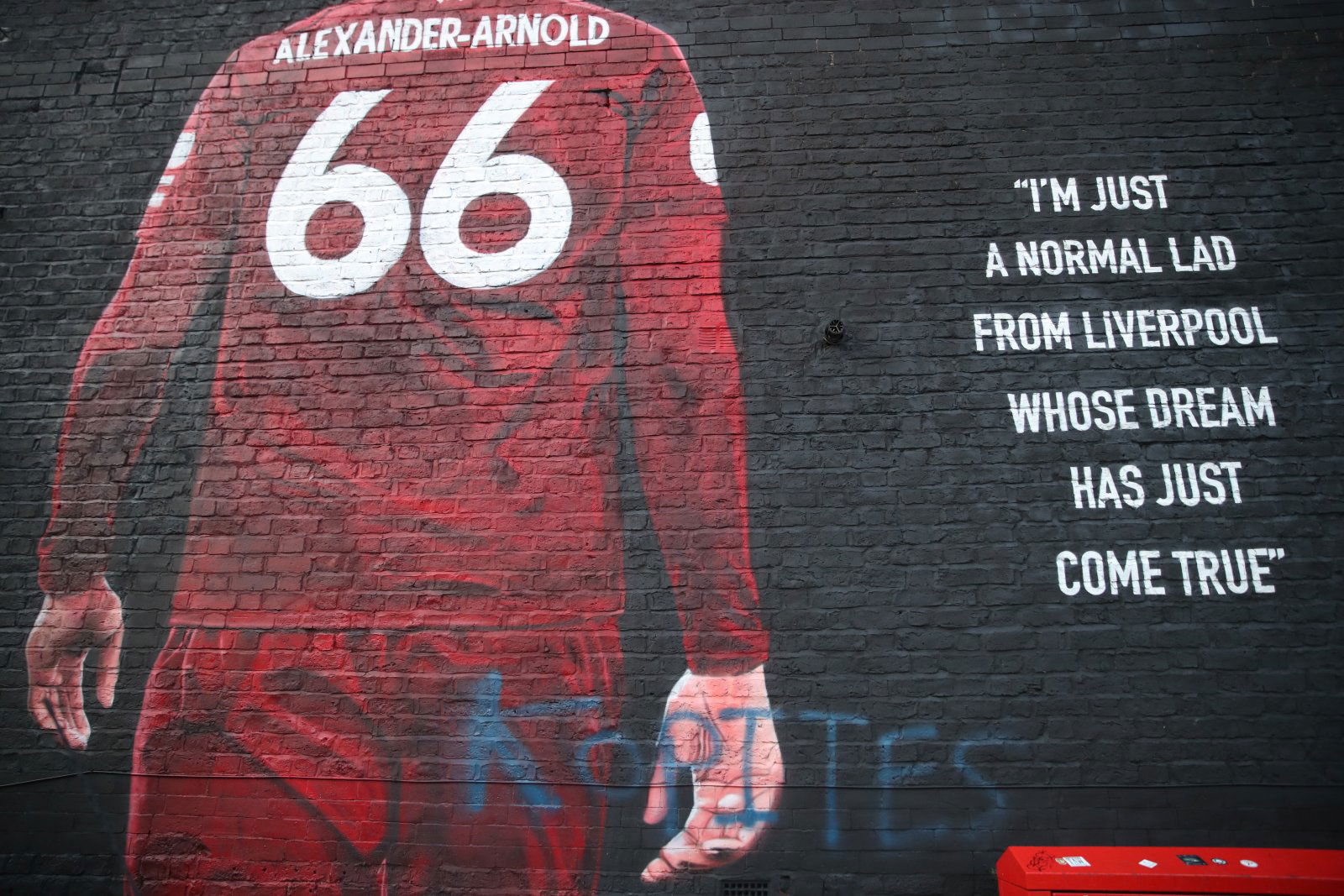 Liverpool fans have reacted angrily to graffiti which appeared on Trent Alexander-Arnold mural after the Reds' 1-0 win against Everton on Sunday.
This is the second incident in which the artwork was defaced in just over a month after it was previously vandalised ahead of the 5-2 win in December.
Situated on the side of a semi-detached house near Anfield, the painting highlights the achievements of a lifelong Liverpool fan, who also raises awareness to homelessness in the city.
The word 'Kopite' was once again sprayed over Alexander-Arnold's hand. with no indication as to who was responsible for the damage.
This is not the only case of vandalism in the city, the Prince Rupert's Tower, which is a part of Everton's club crest, was defaced with red paint and the number six written over the door.
Supporters were furious with the malicious actions of the few and made their feelings clear on social media.
Here you will find some of the angriest responses from Liverpool fans:
What a total waste of energy! Baffled. @lpoolcouncil any chance this can be sorted out ASAP!!!

— Sarah x6⭐️ (@LFCRunner) January 8, 2020
That's infuriating. Football rivalries don't include this. Trent & Club probably do things with charity that helps all people in Liverpool whoever they support. People need to think before they do something this backward

— Canadian Kop (@thecanadiankop) January 8, 2020
Let's hope they get relegated then they can be really jealous Y N W A L

— bob uk (@1960_rob) January 8, 2020
That's infuriating. Football rivalries don't include this. Trent & Club probably do things with charity that helps all people in Liverpool whoever they support. People need to think before they do something this backward

— Canadian Kop (@thecanadiankop) January 8, 2020
Yeah sure it's childish to deface a great piece of artwork but this is always a potential problem when something is accessible to the public. Like the Dixie Dean statue by Goodison, it always used to cop a lashing! The rivalry is real #UpTheReds

— Chris Wynn (@cjwynn77) January 8, 2020
— Robert Porter (@kingrob32) January 8, 2020
What do you make of the vandalism on Trent Alexander-Arnold's mural? Join the discussion and comment below…