Liverpool: Fans react to Stuart Pearce's verdict that Reds will 'comfortably' win title
Just nine games into the new season, with a six-point lead over their title rivals and zero defeats, Liverpool have a real chance of securing their first Premier League title in 30 years. 
Does Jurgen Klopp need to win the league this season?
Yes
No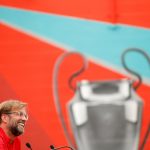 Former Manchester City manager, and now professional pundit, Stuart Pearce definitely agrees – with the ex-England international insisting that the title race could be a foregone conclusion already.
The Reds have started off the new campaign in scintillating form, with their first dropped points of the season coming at the weekend in their 1-1 draw at Old Trafford. 
Pearce, speaking to TalkSport, says he can only see Jurgen Klopp's side losing two games this season – winning the league comfortably.
"Just roll the clock back to the summer, if I turned round and said 'tell you what, lets have a bet, you give me a six point start and I'll have Liverpool' you would say 'absolutely no chance you'd give me a bet like that' – after nine games they've got themselves a six point lead," explained Pearce.
"I think they are clear favourites and they'll win the Premier League this year, comfortably.
"I'm not sure they'll go unbeaten, but I can't see them losing more than two games. If you go into a game against your nearest rivals and you have a six point buffer, it puts real pressure on Manchester City to come out and play and that might just suit Liverpool."
Following the verdict, football fans were quick to jump and remind the former West Ham defender that there is still plenty of time for this to turn around, especially with the Reds having given up a similar lead last year, as well as losing out on the title in the 2013/14 season under Brendan Rodgers.
Still too early to be making silly predictions 🙄

— Lee Siemaszko (@leesiemaszko) October 21, 2019
Liverpool are famous for bottling titles from leading possitions, 6 points is nothing.

— ChrisNash1972 (@chris_nash1972) October 21, 2019
The same guy who put David James up front

— Kieran Bridge (@KieranBridge5) October 21, 2019
I love it when ex professional players and commentators award the title so early in a campaign. They never learn. Do it every season. Liverpool may go on and win it but there's a whole lot of twists & turns to come between now and May.

— Paul D (@PaulDee9) October 21, 2019
Declaring a league win in October always, always goes well…

— Iain Morrison (@wombat747) October 21, 2019
Liverpools to loose has been for a while, pains me to say it but would be embarrassing for them if they lost it from such a commanding position. Although they've been exposed so hopefully teams will see how to frustrate them and not be so frightened of them now

— Sab (@28Zizou) October 21, 2019
Their is 9 games gone lads calm down

— Bravo Mc (@MartinMc1987) October 21, 2019