Liverpool: Fans react with Neil Critchley set to take charge of Aston Villa meeting
Liverpool's ridiculously busy fixture schedule has them playing two games in two days across two different competitions held on two different continents. 
Which competition should Liverpool prioritise?
Club World Cup
Carabao Cup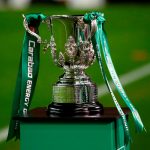 Indeed, it's something Jurgen Klopp has lamented against of late but with the Reds looking so strong in pretty much every department, they have to deal with the pressure that comes with a team looking to win trophies across a number of fronts.
Just how they do that exactly remains to be seen in terms of who players where when the Merseyside giants square off against Aston Villa in the Midlands on December 17th a mere 24 hours before the Club World Cup gets underway in Qatar, though Paul Joyce of the Times has recently revealed at least one of their plans.
— paul joyce (@_pauljoyce) November 25, 2019
According to him, Liverpool U23 boss Neil Critchley will take charge of the club's trip to Villa Park in the Carabao Cup while Klopp is away in the Middle East with his senior players.
While the 41-year-old has worked for the club since 2013, he's got no record of management experience at this kind of level, especially when facing a Premier League side in a quarter-final of one of England's two senior cup competitions.
With that in mind, here's a look at some of the reaction to the news online.
Should be the other way around I'm afraid

— DrSmellyFingers (@DrSmellyFinger1) November 25, 2019
Crazy this is the situation to begin with

— MagicMané (@MagicManeLFC) November 25, 2019
No choice really given the ridiculous situation Klopp was in. Let's hope the young team sticks it right up anyone involved in this decision and beats Villa.

— Phillip Tucker (@philtuck2005) November 25, 2019
Good luck Neil! An amazing show of support, Klopp proving he can manage situations at every level. Confidence runs through the whole club and it's brilliant. 👏🏽

— Kris (@kristheman801) November 25, 2019
Actually so excited about this, completely bizarre situation

— Toby (@MrTobySmith) November 25, 2019
Superb. Loving this move.

— Eddie LFC (@lfc_eddie) November 25, 2019
What do you make of these developments? Join the discussion by commenting below…