Liverpool: Fans slam Gary Lineker's verdict on Roberto Firmino's winner vs Crystal Palace
Lots of Liverpool fans are mocking Gary Lineker, as they suspect the BBC Match of the Day pundit was unhappy that the Reds had regained the lead in their match at Crystal Palace.
After a controversial VAR decision ruled out what looked like an opening goal for the Eagles, Liverpool took the lead in the second half through Sadio Mane.
Wilfried Zaha equalised with an impressive low finish, but Jurgen Klopp's mentality monsters just don't lie down, and they showed it again by re-taking the lead almost instantly after Zaha's strike.
Roberto Firmino was on hand to fire home after some pinball in the hosts' penalty box, and Lineker gave his verdict on the 'scruffiest of goals' on Twitter.
Scruffiest of goals from Firmino makes it 2-1. This @LFC side certainly find a way to win.

— Gary Lineker (@GaryLineker) November 23, 2019
Unsurprisingly, the Anfield faithful were quick to respond to the pundit and form Everton player, mocking what appeared to be some disappointment that his former rivals were set to restore their 8-point lead at the top of the table.
You can find some of the best Twitter reactions down below…
Scruffy or not a goal is a goal ready salted. U should know that.

— James (@FabNabyLFC) November 23, 2019
2018/19: Can't wait for VAR to be introduced. It will stop Liverpool from cheating.

2019/20: We have to do something about banning these scruffy goals. Liverpool benefit from them too much.

— Abdul M. Ismail [🏆🏆🏆🏆🏆🏆] (@AbdulMIsmail) November 23, 2019
Can you say that again Gary, just this time without all the tears

— Matthew Ordish (@MattOrdish) November 23, 2019
So much jealousy over liverpool's Dominance at the top of the premiership. And coming from you Gary, your supposed to be impartial. Or is it just because your precious LCFC cant catch them and were beaten by them?

— abs999 🚑 (@ABStech999) November 23, 2019
From a man who made a career out of scoring scruffy goals

— Fionn🥶🥶 (@IcyOrigi) November 23, 2019
Keep crying

— Jus (@LFCjus_) November 23, 2019
Now say it without crying

— Alex🎅 (@LFCAlex1892) November 23, 2019
Salty 😂😂

— Martina (@msibbald72) November 23, 2019
Should Alex Oxlade-Chamberlain be a regular starter at Liverpool?
Yes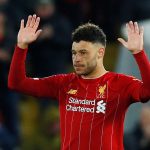 No