Liverpool: James Pearce says Reds won't sign both Timo Werner and Jadon Sancho
James Pearce has commented on Liverpool's latest transfer links with Jadon Sancho and Timo Werner, reporting that it is unlikely that the club will bring both stars to Merseyside this summer.
Talk of Liverpool's potential incomings and outgoings at the end of this season have ramped up over the last couple of weeks, with the latest rumours suggesting that Adam Lallana and Nathaniel Clyne will not be offered new contracts (via Liverpool Echo), while Lazio could be about to swoop for Dejan Lovren (via La Lazio Siamo Noi).
According to The Athletic, the Reds have stepped up their interest in the highly sought-after Timo Werner. The 24-year-old looks to be Liverpool's number one target and the signing some fans want finalised the most; however, talks of poaching Jadon Sancho are also still circulating.
Is Timo Werner definitely coming to Liverpool in 2020?
Yes
No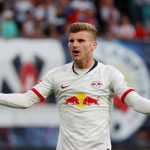 Pearce firmly believes that the club will not be acquiring the services of both summer targets unless one of Liverpool's current front three demands a move away. "Werner is clearly a cheaper and more likely option," Pearce concluded.
Werner is currently valued at £72million (Transfermarkt) while Sancho is worth a whopping £117million (also Transfermarkt). Fans are divided over Pearce's recent comments, with one fan not interested in signing Werner at all.
werner is cheaper and much worse too

— Brett v2 (@LFC_Brett) March 17, 2020
This is just gonna linger on til summer. We could easily get them both. It all depends on who gets sold. Origi for me isn't the answer and should go

— S.O.C (@stevie80con) March 18, 2020
Both was unlikely. Yes Werner seems the done deal

— Sayam Ghosh (@SayamG8) March 18, 2020
Almost have to. Regardless of what happens. There will be some decent sales of assets. Lovren Wilson grujic origi clyne Shaqiri possibly Keita. Expect 5/6 decent sized departures

— Chris Hartland (@catfish9er) March 17, 2020
But what about Havertz

— MarcoPOLOL (@marco_polol) March 17, 2020
Liverpool have no issue with funds and I doubt going forward that we have to sell to buy. Those days are gone. If we want the 2 players then we will get them.

— Mark Luxford (@markylux) March 17, 2020
What do you think of James Pearce's comments, Reds? Who will Liverpool be announcing this summer?