Liverpool: Fans baffled by Bruno Fernandes claim
Liverpool have been the best team in England so far this term.
The current pandemic has put a stop to their procession to the title, but before professional football on these shores, and indeed across the continent, was suspended, they were just two wins and six points away from being named champions. As it stands, they are 25 points clear at the top of the table, which is the biggest such margin in the history of the division.
Manchester United, meanwhile, are 37 points behind the Reds and are fighting for a Champions League spot. Bruno Fernandes has had a massive impact since he joined for £47m in January – the Red Devils are unbeaten in the nine matches he has played – but in the long-term, you would expect them to need more recruitment to fight for the title.
Not if you are Twitter page The United Stand, though. They say that the Old Trafford outfit would be 30 points better off if the Portugal international had been at the club since the start of the campaign, which would have them just seven points adrift at this stage.
Would United be 30 points better off with Fernandes from the start of the season?
Yes
No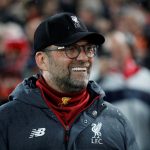 As you can imagine, this has tickled the Liverpool supporters. They have taken to Twitter to share their thoughts, and you can see some of the best comments from the social media platform below.
Laughable

Good player but even had they signed him from day one we've only dropped five points all season?
I'd go as far as to say they'd finish fourth or even third but nowhere near us points wise

— Dobbsy (@Dobbsy96594865) April 27, 2020
@buttsahab98
I'm flipping😂😂😂

— MBS (@MohammadSaad368) April 27, 2020
Optimist of the day. I want what they're having haha

— kapteinsbukse 🇳🇴🇪🇺 (@whoviandan) April 27, 2020
WHATEVER. 🤔

— stuart upton (@upton52) April 27, 2020
Thanks a million, we all needed a good laugh🙃

— Bon Scott (@BonScot76818078) April 27, 2020
— Daniel Wood (@D_Wood90) April 27, 2020
Let us know what you think!