It's time for Liverpool to prove their worth. The Reds have been steadily in control of the race for the Premier League title for much of the season, but as of late, Man City have kicked their speed into a higher gear. A downfall in form from the Reds has contrasted with an upturn for City, and that's proven to be a deadly concoction for Liverpool.
However, though the Reds sit behind City in the Premier League table, all is not lost. There's still 9 Premier League games to go between now and the end of the season, and Klopp will need each of his players to step up and regain their form – that much is obvious.
That said, his reliance will fall, in particular, on three players specifically. Liverpool's defence and midfield has continually flourished this term, with players like Virgil van Dijk, Jordan Henderson and Gini Wijnaldum offering the same, brilliant quality all season long.
However, the same cannot be said for Liverpool's attacking trio of Sadio Mane, Roberto Firmino and Mohammed Salah.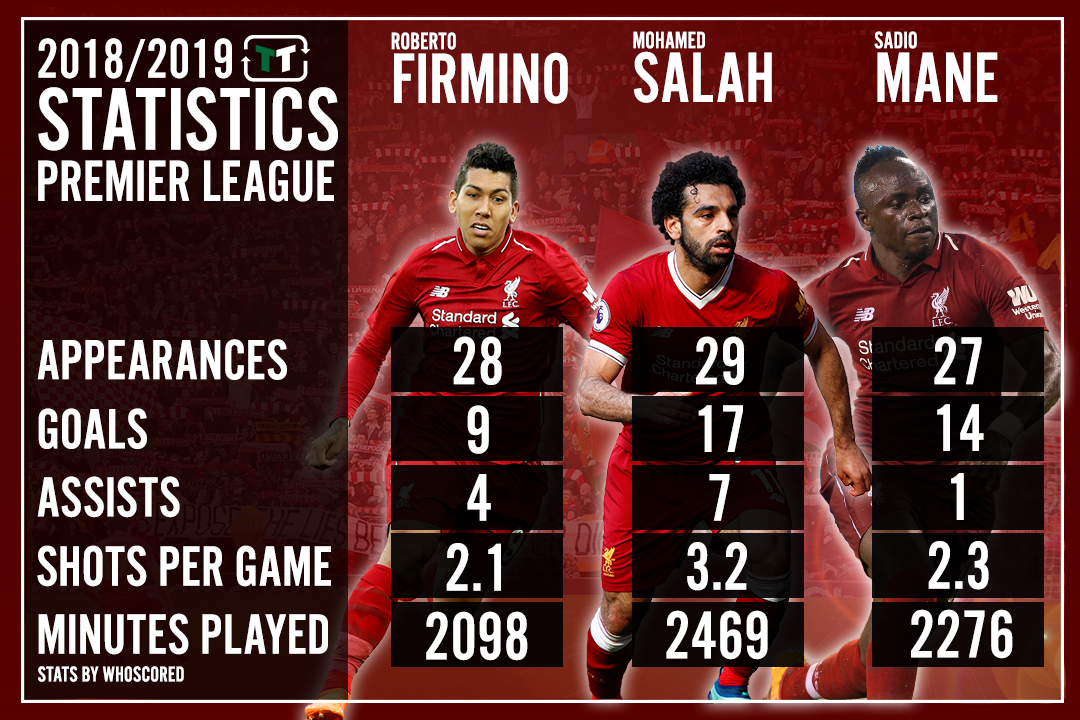 On paper, this seems to be a strange conversation to be having. Between them, they've bagged 40 league goals, alongside a further 12 assists. Most other attacking trios could only dream of such a combination. They've been some of Liverpool's best players this term, make no mistake.
However, there's also no denying that they can be a lot better. Take Salah, for example. He's currently 15 goals short of his season-long tally from last season, whilst he's also bagged just 1 goal in his last 7 games in all competitions. Firmino, meanwhile, is also falling short of his total from last season, whilst he hasn't scored since January. Mane, though he has bettered his goalscoring tally in comparison to last season, has been producing fewer goals, whilst his overall game hasn't quite been as stellar as it was last term.
Stats don't tell the whole story, as in the case of this Liverpool trio, their quality has been below the admittedly very high par that it has set for itself. They've all been guilty of missing chances and being selfish, whilst their overall quality has also reduced. Have they still been solid? Sure, but nobody that's watched Liverpool this season can argue that they've been close to their levels of last season or earlier in the campaign; either individually or, indeed, as a collective.
If Liverpool are going to win the Premier League title at the end of the season, they need everyone to be at their best. In Salah, Firmino and Mane, the Reds have three players that can reflect and be impressed by the job they've conducted. However, they're capable of going to the next level, and it's imperative for Jurgen Klopp that they do exactly that over the coming weeks.
Thoughts?
– Keep up with the rest of our Trending Topic coverage on Liverpool's Title Challenge by clicking here… –