There are plenty of figures in world football who naturally command the attention of the media, but none quite possess the same level of pulling power which Paul Pogba seems to have. 
Indeed, whether it's a new funky hairstyle, an infectiously catchy dance move or better still, his actual footballing ability, Pogba simply cannot stay away from the gaze of the media both in England and abroad. There is something rather compelling about Pogba's journey from a player once shipped off to Serie A by Sir Alex Ferguson to one which sees him standing as the world's 5th most expensive player of all time, according to Goal.
But after two controversial years at Manchester United which have been characterised by a strong divide of opinion throughout the media and a sense of underachievement on the field of play, recent reports suggest that he could be on his way out of the club. According to the Daily Mail, Pogba has already agreed a deal worth £346,000 per week to join Barcelona this summer, with the report citing his fractured relationship with Jose Mourinho as one of the key reasons behind his decision.
At this stage in the transfer window there's no doubt that the news arrives at an incredibly unfortunate, but rather predictable time for the Red Devils. With time almost up to secure a replacement for Pogba it seems extremely unlikely that the club will be willing to sanction a deal, unless they can sign a replacement in an incredibly short space of time.
The transfer window has thrown up surprises which very few could have predicted in the past, but United would just about top the lot if they were able to sign Marco Verratti (valued at £63 million by transfermarkt) to replace Pogba at short notice. Not only would the move send shockwaves through the Premier League and throw up one of the most dramatic deadline days in recent memory, it would genuinely represent a shrewd move from the club.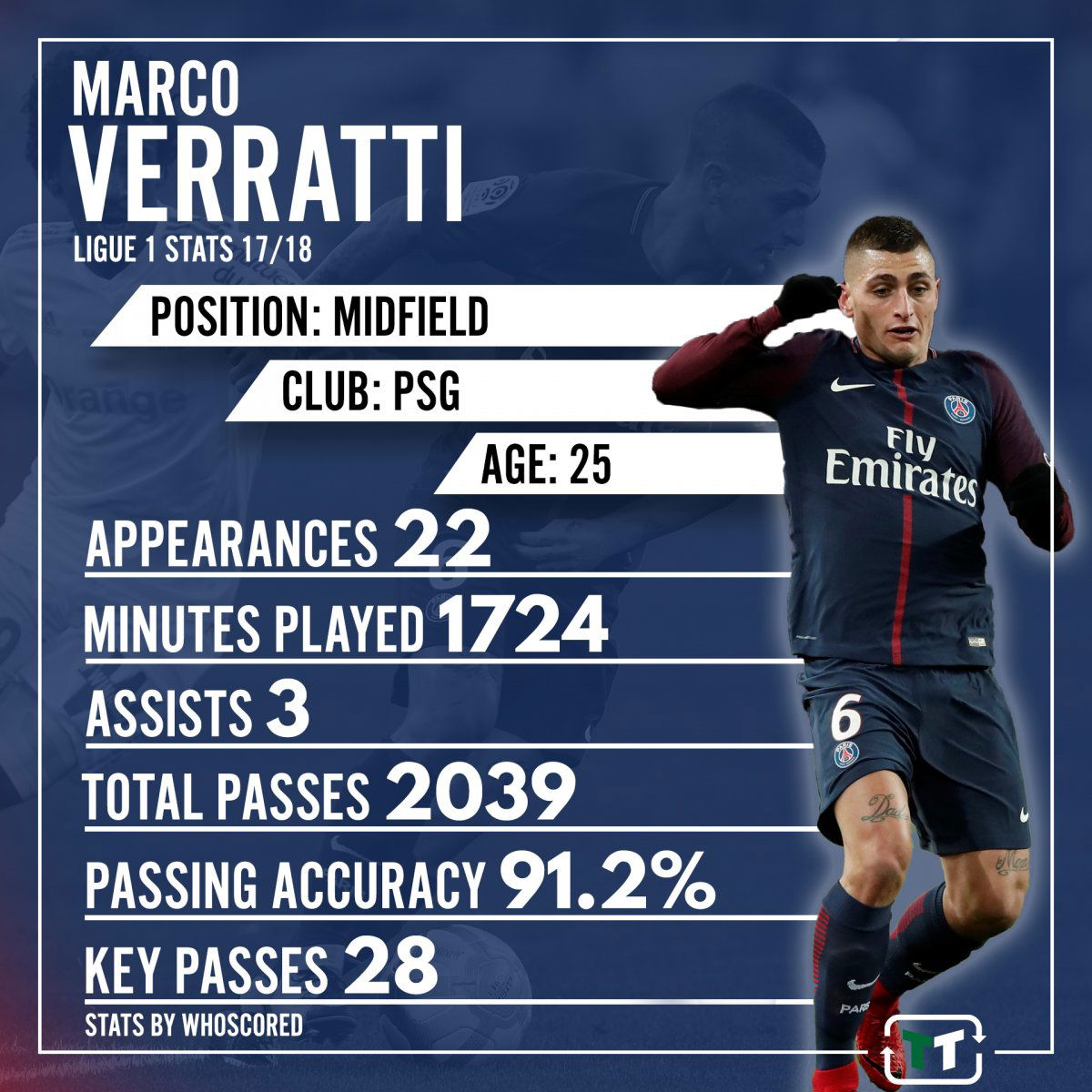 Unlike Pogba, Verratti is one the most consistent midfield players on the continent and Paris Saint-Germain undoubtedly owe a great deal of their success to the Italian's form at the heart of their midfield over the years. With an ice cold approach to collecting the ball in tight areas, Verratti has provided the Parisien giants with a midfield platform from which to build their attacks: a tantalising balance between incisive forward-passing, intelligent reading of the game and relentless work-rate have formed the backbone of his career and PSG's dominance in Ligue 1. It's almost difficult to believe that Verratti is just 25-years-of-age considering what he has achieved at PSG, and the fact he has plenty of his best years ahead of him bodes well for any potential suitors.
One of the most common topics of discussion throughout Pogba's career at Old Trafford has concerned the dynamic between himself and Mourinho which appears cagey at best. Their failure to connect appears to have stifled Pogba's development who seems to be holding back the true extent of his quality at United due to Mourinho's rigid structure which doesn't allow for freedom of expression on the pitch. With that in mind, it's more than justified to suggest that Verratti is actually far better suited to Mourinho's philosophy than Pogba, as the crux of his game does not revolve around his ability to provide moments of magic in the final-third.
Pogba, though, is a player who need to be unleashed to realise the full extent of his potential, so United would actually make a wise, albeit sobering decision to replace the World Cup winner with Verratti before the deadline passes at 5pm on Thursday evening.
Man United fans – thoughts? Let us know below!