Manchester United
Lots of Man Utd fans want to see Thiago at Old Trafford next season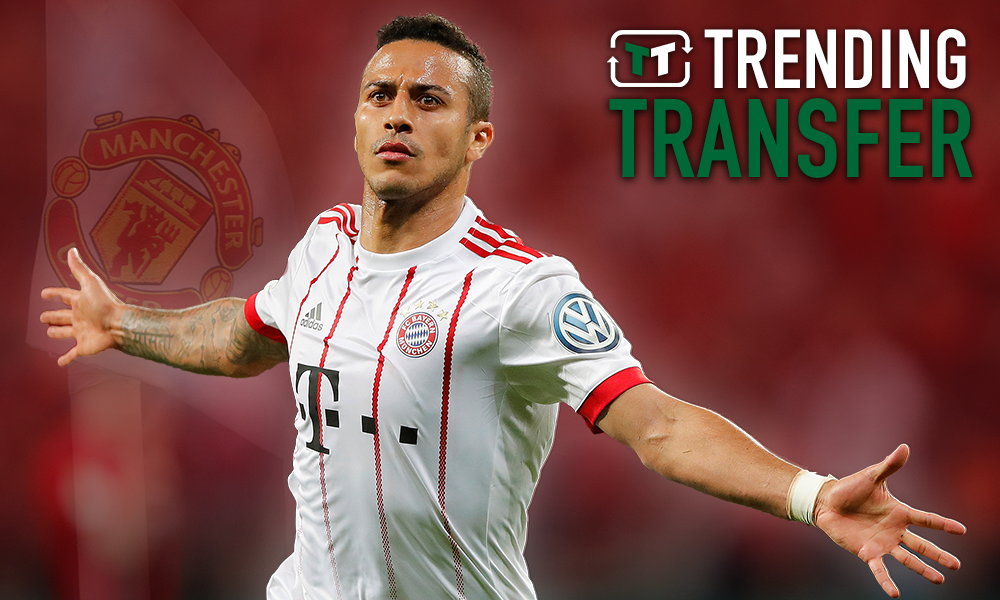 Man Utd's pre-season preparations are well underway, and the work that they do between now and the start of next season will be hugely significant. In many ways, it could be a make or break year for Jose Mourinho at Old Trafford, as another trophy-less year could lead to a few questions being asked about his long-term future. 
Clearly, then, the Portuguese needs to ensure that the next few weeks go well.
However, whilst a lot of work will be done on the training field, it's also important that a few things are done off the field too. The Red Devils' squad needs to be upgraded, especially if they are to compete with Pep Guardiola at Man City next season.
Fortunately, according to the Independent, there is a chance that it could happen. The Independent report that Man Utd could look to kick-start their summer by bringing in some new faces, with Thiago and Robert Lewandowski of Bayern Munich on their radar.
Thiago, it is said, would love to move back to Barcelona, but it's fair to say that lots of Man Utd fans want him to come to Old Trafford.
Many Man Utd fans have taken to Twitter to talk about the rumours, and Thiago – who is rated at £54 million by Transfer Markt – is very popular, it seems. In fact, Man Utd supporters online appear almost unanimous in their desire for the club to land him.
Take a look at what they've had to say below…
Thiago has insane defensive numbers. Can play anywhere in middle without being a liability. Very good passing range too. Afterall he can unlock Pogba. For me fully fit Thiago is best central midfielder in world

— Bilal (@Ajmal_alias_bil) July 19, 2018
Pogba x thiago x lewa interesting … https://t.co/dWBhkqA1cW

— HELIOS (@DavidAmiti) July 19, 2018
I really want Thiago… #MUFC

— i_Aniruddha (@akipathak) July 19, 2018
There's no way United are in for Lewandowski, don't need him. Would love Thiago but don't see United prioritizing a CM over a CB, LB and RW. #MUFC https://t.co/Uc7CosTZ2D

— Adi (@adii_mufc) July 19, 2018
Don't play with me like this, Miguel.

Just imagine Thiago at #MUFC. https://t.co/HEktXPnjZM

— Sean McPolin (@SeanMcPolin1) July 18, 2018
I'd take Thiago in a heartbeat we don't even need Lewandowski and he's 30 and would cost too much

— Adam Mc Mahon (@AdamMcM76413019) July 18, 2018
Imagine a midfield of Fred, Pogba and Thiago. Literally has everything man. Would be top 2 itw.

— Sam (@ILLESTVlLLAIN) July 18, 2018
For me as a #MUFC fan, I want to see our startin XI as: DDG, Dalot, Bailly, Lindelof, Sandro, Matic, Pogba, Thiago Alcantara, new RW, Sanchez, Lukakh. Our subs: Romero, Valencia, Shaw, Rojo, Jones, Fred, Herrera, Rashford, Martial, Mata, Lingard. 1

— Yassin Ehab (@yassineihab93) July 19, 2018
Wish i could believe this but just no.

— Scott MUFC1 (Other account got locked) (@ScottMUFC1968) July 18, 2018
Thiago

— Kev Stanbridge (@KevStanbridge) July 18, 2018
We have Lukaku, Martial, Rashford and Alexis that can play as strikers… Would love Thiago but can't see him joining without a midfielder leaving.

— Adi (@adii_mufc) July 19, 2018
I would love to see Alcantara at united

— Brian (@Yobra072) July 19, 2018
Must get them both at all costs only a fool would not want this level of qualitt especially as it gives us even more qualitt in depths unless fans are happy to see more fellaini

— Emeka Nwachi (@meksy1990) July 19, 2018
Forget Lewy Get Thiago

— LoneRanger (@ISamcyn) July 19, 2018
Man Utd fans – thoughts?
Let us know below!