Manchester City: Fans attack Claudio Bravo over Atalanta performance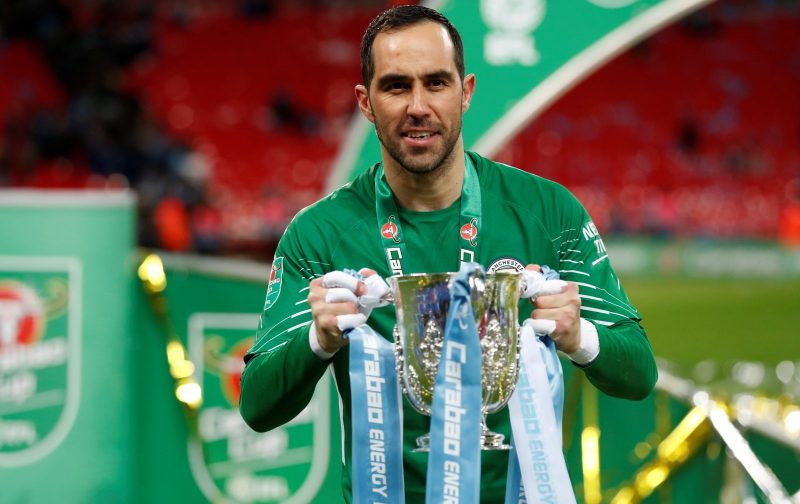 It was going so swimmingly, when Raheem Sterling put Manchester City in front, only for a missed penalty and injury to Ederson resulting in the wackiest second half of the season.
1-0 up and cruising inside seven minutes thanks to City's brilliantly executed first goal of the game, a back heel into the path of Sterling for the opener, you'd be forgiven for thinking that this encounter could've been a foregone conclusion already.
Who should be starting for Manchester City, Sergio Aguero or Gabriel Jesus?
Aguero
Jesus
However, when Pep Guardiola's side squandered a penalty chance after prolonged VAR drama, it was all down hill from that point onward.
Ederson then picked up a knock at half time, prompting unused substitute Claudio Bravo, who put on a Man of the Match performance in the Community Shield, to step up to the plate.
The home side then equalised with a bullet header, and whilst his most recent performances suggested safe hands, they were anything but – with the Chilean taking out Josip Ilicic who was through on goal ten minutes from full-time – resulting in his dismissal.
Kyle Walker then had to go in between the sticks for the remainder of match, with City luckily clinching on for the draw.
As a result, City supporters have taken aim at Bravo for his contribution to a notoriously eventful evening in Milan.
Bravo should get out of this club

— Tact (@Mescudy) November 6, 2019
Kyle Walker is a better keeper than Claudio Bravo

— Michael D (@MikeDatTiger) November 6, 2019
Walker in goal against liverpool

— Nishant rajadhyaksha (@Nishantrajadhy1) November 6, 2019
Bravo is not so "bravo!" anymore.

— Shazril (@ShazrilAziz) November 6, 2019
2016 Prime Bravo is back

— KM (@Mulvaney1Kevin) November 6, 2019
Bravo is not as good as Kyle on goalkeeping tbh 🤔

— RAS (@andrihollow) November 6, 2019