Manchester City: Fans react with disgust to footage of Bernardo Silva skill
Plenty of Manchester City fans have reacted to an online clip featuring Bernardo Silva teasing opponents, although their main focus wasn't necessarily on the Portugal winger.
Instead, after @City_Chief on Twitter uploaded footage of the 25-year-old leading Tottenham players a merry dance in the 2-2 draw at the Etihad Stadium last August before giving away a free kick, many replied to condemn referee Michael Oliver for calling a foul.
https://twitter.com/City_Chief/status/1262057577661321219
The clip shows Bernardo evading the close attentions of Erik Lamela, Tanguy Ndombele and Danny Rose to keep possession throughout the passage of play, dribbling around them multiple times before eventually being adjudged to have fouled Rose when the two players collided.
That match ended in controversy after Gabriel Jesus had a stoppage time winner ruled out following a VAR review, the second time in four months that City had been denied a decisive late goal at home to Spurs following their epic Champions League battle last season. [via BBC]
Who is Manchester City's best winger?
Sterling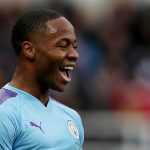 Sane
Bernardo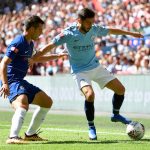 Mahrez
Nine months on from the incident, these Manchester City fans on Twitter are still fuming after seeing the footage of Bernardo at his silky attacking best:
Happened in front of me. Greatest bit of skill followed by greatest injustice ever seem. https://t.co/qrTN1cZOOw

— Geoff Seward (@jeffsewd) May 18, 2020
How th did this end up in a freekick against Bernardo? Ridiculous https://t.co/27N5XYgp6S

— Mohad (@mohamedamiin2) May 17, 2020
Still one of the maddest decisions this season 🤣🤣 how did Bernardo foul anyone in that hahaha https://t.co/QVsUMnCM20

— josh walker (@joshwalker__98) May 17, 2020
I can remember being so furious by that but it was one of many shockers that day culminating in the shocking disallowed last minute winner. Hang your head in shame Michael Oliver, Sadly was equally awful in our game at Anfield

— Bart (@blueyorkie) May 17, 2020
If ever an example of bent officiating was required, then this is definitely one of them.

— Paul (@paulmcfc10) May 17, 2020
This is such a blatant and bent way of saying no sorry we won't let a Man City player embarrass someone like that. Foul!

— NorthJerseyCityzen (@JerseyCityzen) May 17, 2020
Just confirmed the clear agenda against us

— Yblësž 💭 (@Yblesz) May 17, 2020
Man City fans, were you shocked that a foul was given against Bernardo in that game? Just how good is the Portugal winger? Comment below with your views!