Manchester City: Fans slam Arsene Wenger for apparent U-turn on Financial Fair Play
A number of Manchester City fans have hit out at former Arsenal manager Arsene Wenger over his latest comments on football's Financial Fair Play (FFP) rules.
In an interview with French media outlet L'Equipe [via Chronicle Live], the three-time Premier League-winning coach and current head of football development at FIFA called for FFP rules to be relaxed in order to facilitate 'emerging clubs' from breaking into the elite of the European game.
In comments that were later shared on Twitter via @City_Chief, the Frenchman said: "The clubs that dominate Europe today are those that were built and made investments during an era where FFP did not exist. FFP prevents emerging clubs who want to invest from doing so. That is not normal."
https://twitter.com/City_Chief/status/1263582908595310592
Wenger's latest remarks appear to represent a significant U-turn from comments he made in February after Manchester City were handed a two-year ban from UEFA competitions for "serious breaches" of FFP regulations.
At that time, the 70-year-old expressed a lack of sympathy for the Premier League champions over their punishment, saying: "The rules are what they are and you have to respect them. People who are caught trying to get around the rules in more or less legal ways have to be punished, if it is proven that this has been done on purpose." [via The Independent]
Do you agree with Arsene Wenger's latest FFP comments?
Yes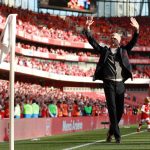 No
These Manchester City fans on Twitter were not impressed with the ex-Arsenal manager over his latest FFP remarks, with some branding him a "hypocrite":
https://twitter.com/bernardooooV3/status/1263595784529825795
Changed his tune, has Arsene. Maybe looking to get a new job post lockdown… https://t.co/zSy9NHh69e

— Paul Hartley (@mrpaulkhartley) May 21, 2020
Err, sorry Arsene, but how many times did you criticise @ManCity stating FFP?

— David Williams (@daw65) May 21, 2020
Hypocrite

— MMA Canelo (@gabrieljesuzs) May 21, 2020
He's changed his tune

— Dean McMillan (@DeanMcMillan12) May 21, 2020
Didn't he support ffp earlier that hypocrite?

— Mohad (@mohamedamiin2) May 21, 2020
Man City fans, what did you make of Wenger's latest remarks about FFP? Share your views in the comments section below!