Manchester City: Fans expose Chelsea legend Didier Drogba in Aguero debate
When it comes to statistics, Sergio Aguero appears to be miles ahead of Didier Drogba, with the Argentine having scored 80 more goals in around 30 less appearances when you compare the club records – with Manchester City supporters quickly leaping to their forward's defence when the simple debate of 'who is better?' came up. 
In this debate, what Drogba has going for him is his big game impact – including that famous Champions League final equaliser and winning penalty which gave the club their first ever European Cup.
Would Kingsley Coman be a good replacement for Leroy Sane?
Yes
No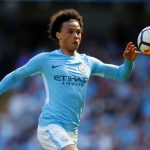 As for Aguero, he has the numbers and the fact that he is City's all-time top scorer with his fair share of big moments – one of them being that title-winning goal against QPR back in 2012.
Bearing all of that in mind, a Chelsea fan on Twitter tried to argue that the African had scored more goals against bigger sides in the league and Europe.
In response, however, a City supporter revealed stats that actually showed that Aguero, again, holds the superior numbers in that regard.
Here's how City fans reacted to the Drogba debate.
Mental how much one performance in a CL final and nostalgia has overrated this guy. Ronaldo has never won a CL so using that logic Drogba must be better

— billy (@billymcfc_) November 18, 2019
Drogba was a bit of a fraud in regular league games, he just turned up when it mattered most which is why hes remembered so well but I'd take Aguero over him

— Jack (@LFCJack_96) November 18, 2019
Really isn't a debate pic.twitter.com/JaeiIh1ckp

— billy (@billymcfc_) November 18, 2019
Massive W

— Kristian Redmond (@RedmondKristian) November 18, 2019
Not to add that the old top 6 were not as good as when Aguero was here.

— دا فا (@MD17b) November 19, 2019
Aguero is definitely better than Drogba

Aguero and Aubameyang and Cavani

All same type of players and strikers

All are better than Drogba

Giroud is the same level as Drogba

— Tobyy (@CaptainGXhaka) November 19, 2019
This a dub

— Chief Sosa (@Chiefso78954598) November 18, 2019
Divock Origi has as good a CL CV as Drogba has lol, he must be just as good then. Also using that logic Eden Hazard must be a complete fraud then, as he literally doesn't have a single notable CL performance

— billy (@billymcfc_) November 18, 2019