Manchester City: Fans praise Ederson in response to surprising footage
After footage emerged online of Manchester City star goalkeeper Ederson potentially being stopped by the police for an unknown reason, via City Chief, some supporters used the opportunity to jokingly praise the Brazilian for his capabilities as a reason for him being pulled over. 
Will Pep Guardiola leave Man City in 2020?
Yes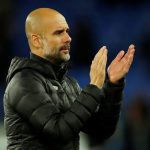 No
The video, which showed what looked to be Ederson being stopped by the police in Manchester, has circulated online – with supporters offering hilarious theories as to why it could've happened.
Ederson, who has been integral to the Sky Blues' trophy haul in the last two seasons since signing in the summer of 2017, especially taking into account his brilliance in starting play out from the back and his uncanny ability to launch pressing counter-attacks, could be crucial in City's bid to catch up with league leaders Liverpool.
Of course, given their huge lead, it's an uphill task – but Pep Guardiola's side managed to overturn a points deficit last season.
Here's how supporters lauded the 'keeper on Twitter.
Done for defying the laws of physics, nobody that tall should fit in that car😊

— peter akister (@peter_akister) December 24, 2019
Probably for being a baller

— Kenny Taig (@KennyT1985) December 24, 2019
Autograph

— Grstreble (@grstreble) December 25, 2019
Probably steering with his feet because he can do that and because he's just Ederson

— 🅿️hoenix (@TwelfthBlue_) December 24, 2019
Seeing if he has any spares for league cup semi at ot

— will lister🏆🏆🏆 (@willlister70) December 24, 2019
His long range passing is too deadly

— Saitama's diff (@scottybangbang_) December 25, 2019
Watch Manchester City travel to Wolves later today LIVE on Prime!