Manchester City: Fans react to Raheem Sterling's one-on-one miss against Atalanta
Raheem Sterling helped himself to a hat-trick in Manchester City's 5-1 win over Atalanta in the Champions League last night, with his treble coming inside 11 second-half minutes.
Do you fear Raheem Sterling could leave Manchester City?
Yes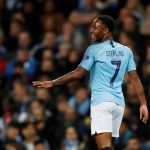 No
The 24-year-old also provided the assist for Sergio Aguero's first-half equaliser and he now has 12 goals to his name in just 13 club appearances this season, almost halfway to matching his 2018/19 tally of 25 goals already.
Even though he registered his second hat-trick of the season in last night's victory, he ought to have added a fourth goal to his tally, only to shoot wide when through one-on-one with Atalanta goalkeeper Pierluigi Gollini in the 75th minute.
Manchester City's official Twitter channel @ManCity informed followers of the missed opportunity with the capitalised caption 'He is human'.
75. HE IS HUMAN! Sterling races through one on one and has a chance to make it six but fails to convert

5-1 #ManCity

— Manchester City (@ManCity) October 22, 2019
Sterling has scored 16 goals in total for club and country since the beginning of August when his four for England in recent weeks are taken into account, with Rio Ferdinand claiming on BT Sport [via Manchester Evening News] that he is outperforming the likes of Eden Hazard and Philippe Coutinho.
These Manchester City fans on Twitter still saw fit to chide Sterling for his one-on-one miss last night, some of them going for a tongue-in-cheek approach:
Not ruthless enough! More more more. Put em to the sword.

— Benny Mokhalinyane (@benny81blanco) October 22, 2019
That is sterling
We need consistency

— Immanuel Ajinaab Akanpiem (@Ajinaab_Imma) October 22, 2019
What a miss,not good enough,sterling out

— mahrezone (@pr1ncemahrez) October 22, 2019
That's the sterling we all know

— Morrisz (@Morriisz) October 22, 2019
sterling out

— Hannah (@xxhannah_11xx) October 22, 2019
he needs to get better at 1 on 1's, and generally situations where he has more than 2 seconds to think.. great player, but still room for improvement if we need him in a CF role.

— AL14 x EM31 (@Lzporte) October 22, 2019
What did you make of Sterling's display against Atalanta? Is he the best player in England on current form? Let us know what you think by commenting below!