Manchester City: Some fans want David Silva dropped after disappointing derby display
Manchester City's defeat to United will have their fans dreading going into work on Monday morning, and the players might well be walking into training with their heads just as low considering some of their performances. David Silva failed to show why he's regarded by many as the club's greatest ever player, and fans are getting tired of his poor form.
Are Man City making a mistake not signing a defender?
Yes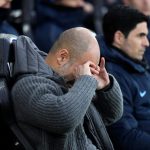 No
The Manchester Evening News noted he was "just not sharp enough to find his way around, or through, a packed United defence" and rated him 5/10. The 33-year-old has already revealed he'll be leaving at the end of the season, and with performances like the one against United, it would be the right decision for the club too.
Man City blogger Simon Curtis, summed up his thoughts on the game on Twitter which included him saying: "David Silva should be spared this kind of end to a glorious City career." Some fans replied to express their view on the Spaniard, and the majority of them were in agreement that his quality has dropped and he should be making way for the likes of Phil Foden to get more minutes.
Angelino's been hard wired to pass diagonally inside and backwards. Every time. Bernardo's tackle for the penalty summed up his form – late, wrong foot, misplaced. David Silva should be spared this kind of end to a glorious City career. Meanwhile, De Bruyne can't do this alone.

— Simon Curtis (@bifana_bifana) December 7, 2019
You can see some of their reactions to the tweet below:
Agree on most points. It was painful today watching David Silva, too many games in a short time? At any rate, why not ease Foden in, tonight may not be best but Zagreb on Wednesday there's no reason why not. No point grinding Silva into the ground for his last season.

— Jonathan Aitken (@DrJonAitken) December 7, 2019
David Silva should not be captain and should not be playing 90 mins in his final year ..

— KOmat (@komatsola) December 7, 2019
David Silva is a heavy baggage we're lifting on our shoulders and it's only pushing us down. Need to get rid of him asap

— Haris Khan (@HarisKh61286676) December 7, 2019
Rather see Bernardo or Foden playing centrally instead of Silva. Give Mahrez a run out wide. Move Ferna to DM and blood García. Nothing to lose in league.

— Lee McKenzie (@macamcfc) December 7, 2019
Absolutely spot on 👏👏👏

— ant (@antlini) December 8, 2019
Excellent analysis

— chester bells (@chesterbells1) December 7, 2019
Man City fans, what did you think of David Silva's performance against Man United?