This article forms part of our Potential Consequences feature, which is where Football Transfer Tavern takes a look at a recent story and suggests what the potential consequences would be, should that story come to fruition.
Manchester City manager Pep Guardiola is fully committed to his job at the Etihad Stadium despite his wife returning to Spain with one of the couple's children, as reported by The Mirror.
According to The Mirror, Cristina Guardiola has relocated to Spain to attend to her business interests, but her husband will remain in England with the couple's other two children and is focused on maintaining Manchester City's recent success, with the club winning four trophies last season and aiming for a third successive Premier League crown this term.
The Mirror reported that sources from the club said that Guardiola remains totally committed to his job at the Etihad, where he is earning £20m per year, and is contracted to the Premier League champions until 2022 after signing a contract extension in May 2018.
The 48-year-old has won seven trophies at Manchester City since taking charge in summer 2016 and has the majority of four seasons left on his existing contract. Here are some of the potential consequences for the club and manager if he sees out the remainder of his deal at the Etihad:
A Ferguson/Wenger-esque battle for supremacy with Jurgen Klopp
The last two Premier Leagues have gone Guardiola's way, but Liverpool pushed them to within a point under Jurgen Klopp last season. Those two teams finished 25 or more points ahead of the chasing pack in 2018/19 and are again the top two after six games this season, with second-placed Manchester City five points behind Liverpool and five ahead of Tottenham, Manchester United and Chelsea.
With Klopp's current contract also expiring in 2022, he and Guardiola could be locked in some titanic title tussles in a manner reminiscent of Ferguson and Wenger if the Premier League's current top two remain significantly ahead of the rest in the division.
Outstripping his Barcelona achievements and legendary status at Manchester City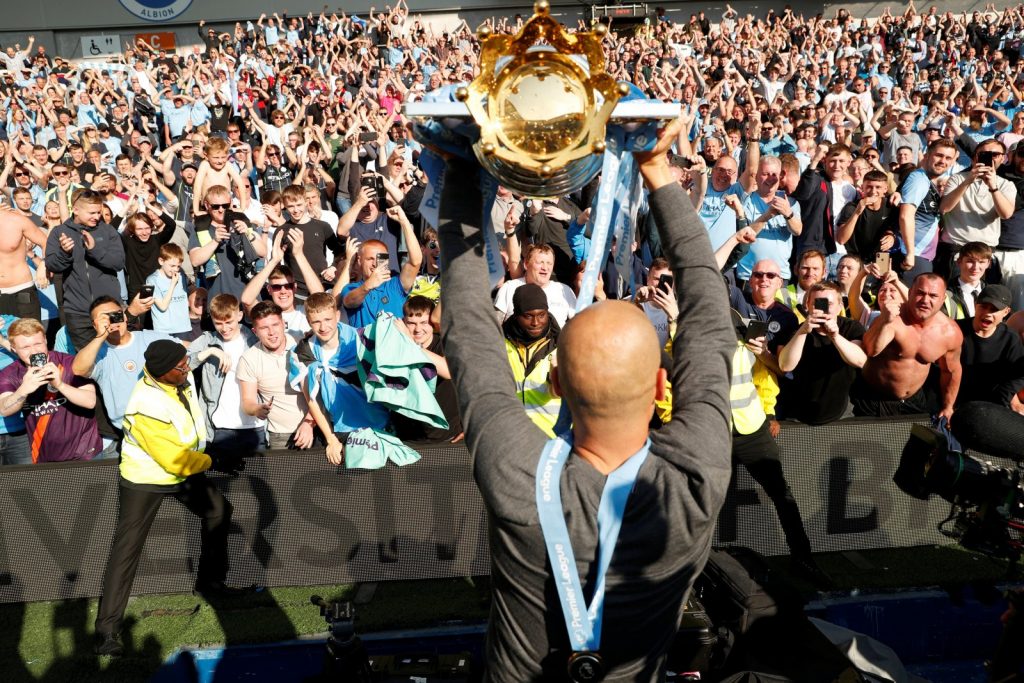 Manchester City have won 25 trophies in their history and seven of those have been under Guardiola. In just three years he has won more major trophies than any other manager at the club – Joe Mercer led City to four trophies in his time in charge from 1965 to 1971.
If Guardiola's trophy rate in his first three years at the Etihad is maintained to the end of his contract in 2022, he will add eight more in the next four years to finish with 14 trophies in his time at the club.
That would make him by far Manchester City's most decorated manager of all time and ensure legendary status, while also taking him beyond the 12-trophy haul he achieved at Barcelona.
Faint hope for academy prospects
In his three years in charge, Phil Foden has been the most used academy graduate with 38 appearances nearly two years after his debut, while Kelechi Iheanacho played 29 times under Guardiola before moving to Leicester for £25m in 2017.
The likes of Tosin Adarabioyo, Aleix Garcia, Manu Garcia, Pablo Mari and Jack Harrison have had multiple loan spells away from Manchester City without a sustained run in the first team, which does not bode well for current academy prospects at the club if Guardiola stays on until 2022.
Manchester City, what do you think the potential consequences of Guardiola seeing out his Etihad contract would be? Let us know your views in the comments section below!