Manchester United: Fans joke about potentially buying Crystal Palace's Luka Milivojevic
Many Manchester United fans have joked that they should sign Crystal Palace midfielder Luka Milivojevic because of his impressive penalty record.
Who should take penalties?
Marcus Rashford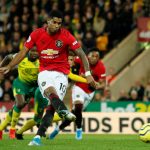 Anthony Martial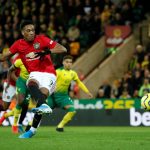 The Premier League Twitter account tweeted out statistics saying that Milivojevic has now become the third-best Premier League penalty taker of all-time based on his conversion rate of 91 per cent (for player's who have scored at least 20 penalties).
Despite only being at the club since 2017, Milivojevic has remarkably managed to already be in the top 10 scorers of penalties in Premier League history, sitting ninth with 21 penalties scored.
The defensive midfielder has already surpassed the likes Leighton Baines, Teddy Sheringham, Danny Murphy and James Milner in his short time at the club.
With Manchester United having big penalty problems this season – two were missed on the weekend against Norwich in their 3-1 win over the Canaries – many have joked that the Serbian should be signed for the club so they could have someone who could convert from 12 yards.
Here are some of the replies below…
Manchester United should buy just to take penalties.

— Martial's Gloves (@KawumaBulayimu) October 28, 2019
One of the certain things in life is Luka Milivojevic scoring a pen.

— Robert Ntim (@r_ntim) October 28, 2019
Maybe @ManUtd should hire him to teach our players how penalties are taken

— Ditiro Zee Seatla (@Zee23294) October 28, 2019
@ManUtd sign him up!

— Abe (@AbeRogato) October 28, 2019
United should buy him just to take penalties.

— Arjun Krishnamurthy (@Arjun_K6) October 28, 2019
Man United should sign him only to take penalty because clearly nobody there can.

— FRTHZN (@MuhdFarithzuan) October 29, 2019
Sign Milivojevic in Jan @ManUtd . Proper penalty taker

— Joy LUHG (@joywinvaz) October 28, 2019