Man Utd: Fans react to Ole Gunnar Solskjaer's comments about Marcus Rashford's strike vs Chelsea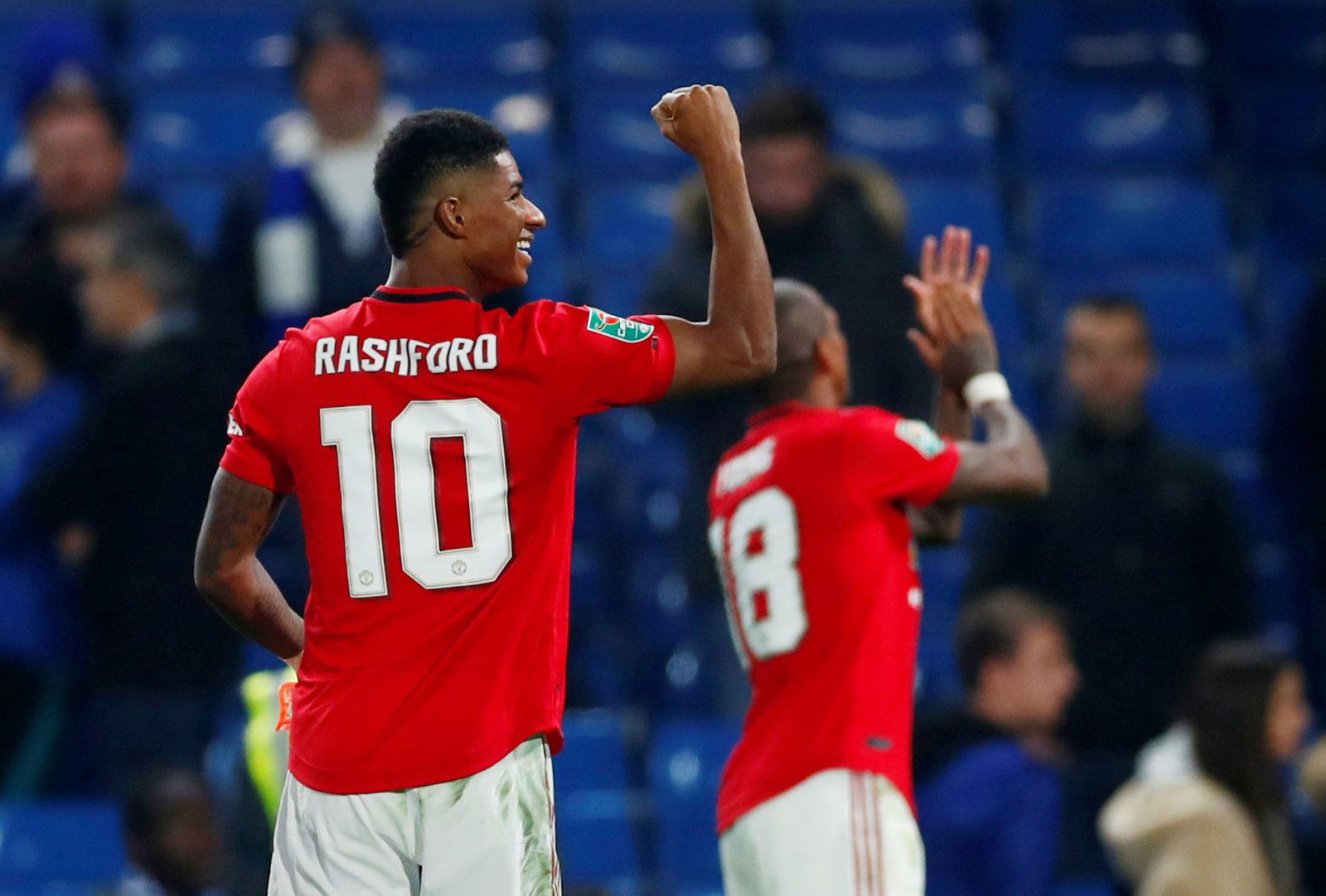 A lot of Manchester United supporters found themselves agreeing with comments that manager Ole Gunnar Solskjaer made after his side's 2-1 win against Chelsea in the Carabao Cup.
The Norweigan manager praised striker Marcus Rashford after his 35-yard free-kick was struck in the manner of United's former No. 7 Cristiano Ronaldo as his strike sailed past Blues goalkeeper Willy Caballero.
A penalty from Rashford gave the Red Devils an early first half lead after a clumsy challenge on Daniel James from Marcos Alonso left the referee with no choice but to point to the spot.
After missing two penalties already this season, the England international made no mistake on Wednesday as he tucked away his penalty.
His set piece that sealed United's quarter-final place in the Carabao Cup was the talking point of the affair. Speaking to MUTV (via Goal) after the game, Solskjaer said that his shot was familiar to the technique of a former Old Trafford great.
"It's very @Cristiano-like, isn't it?"

High praise for @MarcusRashford's stunning set-piece from Ole!#MUFC pic.twitter.com/4WpW6jf8EA

— Manchester United (@ManUtd) October 30, 2019
"It was very Cristiano-like, wasn't it? The boy has got nerves of steel," Solskjaer said.
"Takes a penalty, no problem steps up and hits the ball like he does and wins us the game. Fantastic."
He added: "I think he works too much on [those free kicks]! You know what I've always said is to get Marcus inside the box and scoring simple tap-ins. He always scores great goals, Marcus! He practices and today he got his reward."
Plenty of fans were echoing the words of their manager after the victory and voiced their pleasure about Rashford's free kick on social media.
Here are some of the comments from Manchester United fans in response to Solskjaer's words:
I agree

— Obi Of Onitsha🇨🇦 (@cliqik) October 30, 2019
YES 👅

— Maren 🇳🇴 (@footballqueeen) October 30, 2019
Rashnaldo 🔥🔴🚀❤ #mufc

— Nataly Antar (@nataly_antar7) October 30, 2019
We are behind you boss

— ManUtd Fan (@UnitedMan1999) October 30, 2019
Even Chelsea can't deny that. pic.twitter.com/pE84G0uVpV

— Olanrewaju demilade (@Olarrywaju2801) October 30, 2019
OGS 😍

— Arthur Fleck (@EsoKachikwu) October 30, 2019
How I wish it was number 7 he wore this night
I knew Cristiano Ronaldo mush have stand up and give him some unstoppable clapping 👏

— Crownfit (@crown24_fit) October 30, 2019
Yes I think maybe rashford will be next Ronaldo 😊

— Retrara Doa (@RetManUnited) October 30, 2019