Manchester United: Fans react to Scott McTominay's leadership skills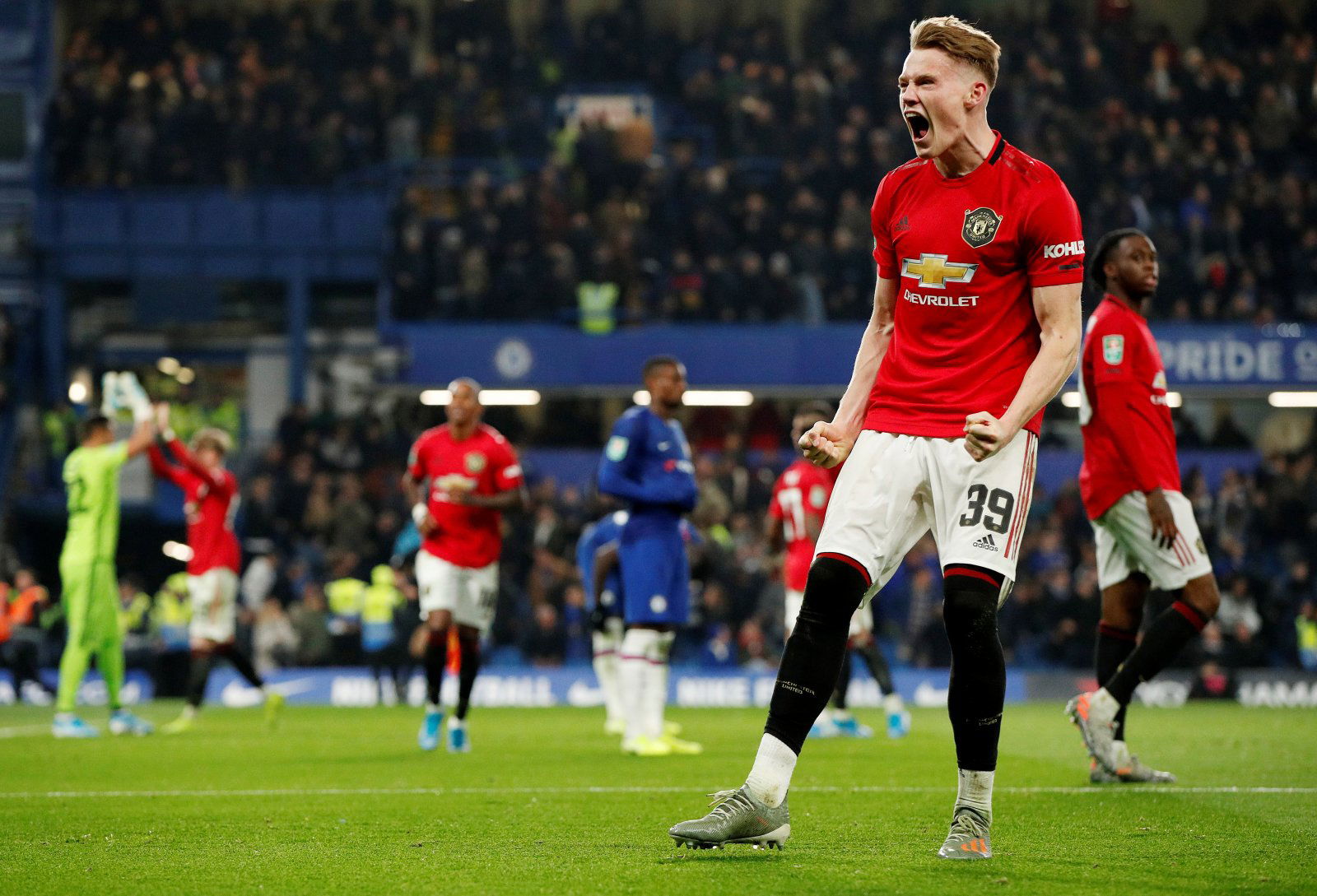 Manchester United fans have praised the leadership qualities of Scotland international Scott McTominay after his side's 2-1 victory against Chelsea in the Carabao Cup.
The 22-year-old was a key fragment for the Red Devils as Ole Gunnar Solskjaer's side advanced to the quarter-finals of the competition.
McTominay was beloved by former manager Jose Mourinho and is now a key member of the Norwegian manager's squad after a string of solid individual performances for United.
The Scottish middle man has scored two goals and provided one assist in 13 games this season and finds himself involved a lot more under Solskjaer than he was under the previous managerial reign.
The footage posted by @TheManUtdWay via Twitter showing McTominay pleading with his teammates to regain their shape as United were running down the clock late on in their Carabao Cup tie.
Scott McTominay didn't just boss the midfield last night but his leadership skills to talk to experienced players in telling them where to be was great. 92nd minute. 22 years of age. 👏 pic.twitter.com/Z70QhBBOKz

— The Man Utd Way (@TheManUtdWay) October 31, 2019
Supporters were looking forward in terms of McTominay's career and made their judgements on social media.
Here you will find some of the best comments from Manchester United fans:
Future captain, absolutely no doubt!

— Simon Bryson (@_simonbryson) October 31, 2019
He was immense

— George Galloway (@georgegalloway) November 1, 2019
Mc Tominay is a leader and a future United Captain #ManUtd

— John C (@johnc_65) October 31, 2019
The lad is maturing and getting better game by game, absolutely the type of character we need at the club

— Matthew Lyons (@mattlyons1993) October 31, 2019
Mad dog pic.twitter.com/hW4O0oRrzO

— BBG™ (@B_B_G_31) October 31, 2019
Scotty McSauce!!!

— Duncan Gacheru (@dangacheru) November 1, 2019
This is what we need. Always alert, and engaged.

— 🔪 (@AisleNevertell) October 31, 2019
I love this guy…..our new Mr Manchester United now that Ander is not here again

— Official_Ciouse🇳🇬 (@SymplyCiouse) October 31, 2019