Manchester United: Fans accuse Gary Neville of having 'no clue' about the current situation at the club
Manchester United fans have reacted to the words of former United fullback Gary Neville after his recent comments about Ole Gunnar Solskjaer.
The Norwegian manager's team have had a dreadful start to the new campaign. United lie 10th after 13 Premier League games and have only picked up four wins.
Who has more ability, Daniel James or Nicolas Pepe?
James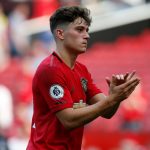 Pepe
This comes after the club spent over £100m on defenders during the summer months, bringing in Harry Maguire from Leicester City for £78.3m and Aaron Wan-Bissaka from Crystal Palace for £49.5m.
Gary Neville: "Ole has to be selfish. He's going to have to have that ruthless streak that a Mourinho or a Conte has and he's going to have to spend the club's money in the January window to protect himself." #mulive [sky]

— utdreport (@utdreport) November 26, 2019
The former Red Devils' No. 2 issued a plea on Sky Sports' Monday Night Football (via Daily Mail) to his former teammate to become more "selfish" and demand more from the club's executive club chairman Ed Woodward, following his side's 3-3 draw against Sheffield United on Sunday.
Supporters were displeased with the remarks from the ex-United right back and made their feelings clear on social media.
Here you will find some of the best comments from Manchester United fans:
From the statements hes making, its very clear that neville has absolutely no clue about management

— Usman Khan (@Lennya7x) November 26, 2019
Christ. Gary Neville flip flops so much it's clear that he has no idea about management. The fact that he was an average footballer years ago and is articulate got him his job. youth, Ole doesn't want a goal scoring striker. Does anybody listen to the things he says on TV?

— Kabaji Egar (@KabajiEgara) November 26, 2019
That's the whole reason he was given the job.

If your house is leaking you need a plumber not his apprentice.

— Karla Hilton (@KarlaHilton1) November 26, 2019
Someone is conflicting.. lol werent he all about youth and stuff and bullied lukaku out of united and forcing pogba too with his agendas?

— BINSALMANFC (@Houseshead1) November 26, 2019
Nonsense

— Shreyas Bhat (@shhhyas) November 26, 2019
So he has not spend enough already

— OMO 'YA TISHA (@OfficialVandee) November 26, 2019