Manchester United: Fans attack Jesse Lingard after he questioned club's mentality
Responding to a piece from the MEN via the Daily Mail, Manchester United supporters were enraged by polarising star Jesse Lingard's comments over the club's mentality right now – prompting the fans to go in on the Englishman through Twitter. 
Do Man Utd need to move from Jesse Lingard?
Definitely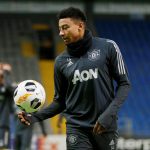 No, he's useful
Speaking exclusively to the Mail, Lingard opened up over the team's mindset going into games – proposing a theory that maybe the squad think they've already won before facing off with a lower table opponent.
Going on to offer a solution to fix this mental lapse, the 27-year-old hinted that they need to keep the consistency and mentality they possessed against the likes of Tottenham and bitter rivals Manchester City – games they triumphantly won. 
Following the England international's verdict on why United appear to drop points against lower opposition sides, supporters on Twitter proceeded to roast Lingard for his comments – perhaps suggesting he needs to reassess himself first.
Here's what they had to say on social media.
His infantile mentality is the first that should be questioned.

— Barry Shmeizer 🐝 (@DocUnited) December 25, 2019
Needs to look at himself before he questions the team! Shocking form for over a year now!

— Daniel (@Dan7eL_MUFC) December 25, 2019
He should take a look at his performance🤦🏾‍♂️…. 2 goals in 2019 and he's complaining

— The.saint👑👑 (@_saint007) December 26, 2019
— Hassan Abedi (@HassanRAbedi) December 25, 2019
yeah! your mentality also and the first, what a waste!

— راميذي حسن (@ramizihassan) December 25, 2019
same goes to you!

— راميذي حسن (@ramizihassan) December 25, 2019
Watch Premier League football LIVE on Prime on Boxing Day!