Manchester United: Fans demand 'ready made' Christian Eriksen during January
Following the commencement of the highly anticipated January transfer window, supporters from every club are set to watch their team battle it out for much-needed acquisitions ahead of the second portion of the season – with Manchester United fans, in particular, demanding that their club prioritise signing Christian Eriksen. 
Will Eriksen end up at Manchester United?
Yes
No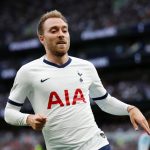 Responding to a tweet from Utd Report asking which player fans wanted to see come through to Old Trafford, a huge portion of them responded with Eriksen's name – citing the fact he is a 'ready made player' and could fill the void left by Paul Pogba if he decides to leave.
The Spurs midfielder has bagged an overall 69 goals and 89 assists in 300 appearances for the London side, as well as 95 caps on the international stage for Denmark. This season, the former Ajax man has averaged 1.5 key passes per game (WhoScored) across all competitions – better than almost the entire United squad (aside from Pogba and Ashley Young) despite his relatively limited involvement in the Premier League.
Clearly, he has a creative ability and the Independent recently suggested the club did want to line up transfer targets on that front, so a move would certainly make sense. Previously linked with a move to Old Trafford by the Mirror, it seems the Dane is a popular figure amongst Red Devils online.
As a result, United supporters have been keen for their club to snap up Jose Mourinho's star man in what could be a clever move.
Here's what they had to say on Twitter.
Eriksen. He's a ready made player, ready to make an impact. One Sir Alex would of took in a heartbeat.

— theJones (@SteBonesJones) January 2, 2020
Look, we have enough young players (talents & deadwoods). We need some experienced players who cam drive the youngsters like Rashy, Tony, Greenwood and James.

So, I'm talking Eriksen obviously. Experienced, creative, can score, lead, take amazing set pieces. Perfecto.

— ZAik Ahmed (@zayediqbal0) January 2, 2020
Eriksen is the best fit for United. Same age as Lingard but 10 times the player for the same position. Maybe Spurs would do a straight swap for Lingard considering he goes for free in 6 months.

— Keepaneyeout@irish.net (@Keepaneyeoutir2) January 2, 2020
eriksen, would fit in well at no10, pogba as b2b, then fred or mctominay holding. Would be a start, add creativity to midfield and got set play delivery

— Bazzer-Baz (@BazzerBaz247) January 2, 2020
Eriksen, barely any money and he's class. Will solve a lot in the midddle for us. Then someone on the right wing, but hard to find anyone good enough under a 100mil…

— SirH (@Sirhampo) January 2, 2020
Eriksen is a no brainer at 17m regardless of if he comes for the pay cheque or not. Any improvement to the midfield will help.

— Oli wiseman (@Owiseman27) January 2, 2020
Will Eriksen end up at Old Trafford? Join the discussion by commenting below…