Manchester United: Fans doubt that Old Trafford 'revamp' will take place
Manchester United fans were left unconvinced after news that the club are looking to 'revamp' and modernise Old Trafford, due to their trust issues with the owners of the club.
The Glazer family, United's outright owners, have faced criticism from supporters over the neglect of the stadium over the years, with some saying that the ground looks "tired and tatty" in comparison to modern stadiums such as the Emirates and the Tottenham Hotspur Stadium.
Who has more ability, Daniel James or Nicolas Pepe?
James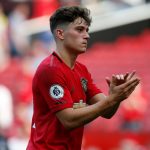 Pepe
"The Theatre of Dreams" was originally opened in 1910 with a capacity of approximately 80,000. The ground was used as a military depot in the 1930s and was heavily damaged by the German bombing raids of the Second World War before the stadium was eventually extended to an all-seated capacity of 74,994.
Manchester United are conducting a large scale strategic review of their infrastructure, including OT and training ground, amid recognition modernisation is required (quotes via @UWSmag) #MUFC https://t.co/tcNuKRy4RU

— James Ducker (@TelegraphDucker) November 26, 2019
Executive vice-chairman Ed Woodward confirmed in the United We Stand fanzine (via Sky Sports) that they will be looking to modernise the iconic structure and preserve the stadium's original aura.
Supporters were not impressed with the latest revelations and made their feelings clear once more about the owners on social media.
Here you will find some of the best comments from Manchester United fans:
none of this will materialize…Remember the DOF rumor same time last year ….they will continue to run this club to the ground without investing a single penny frm their pocket…

— Kris jay (@devilr18) November 26, 2019
Only to scrap plans a year later (as with DOF), as they realise it'll cost money. #MUFC

— Ole's Cardiff 2.0🔰 (@2OIegend) November 26, 2019
Woodward pr stunt again,#GlazersOut

— 🔰Craig J🔰 (@craig26315424) November 26, 2019
A large scale strategic review = work out the cheapest possible ways to patch it up.

— Jonny Ross 🔰 (@thejonnyross) November 26, 2019
So basically after reading the article they've said they'll look into it but dont want to do it. pic.twitter.com/IXRc9Nt8W5

— Jason309 (@Jason_Kavanagh) November 26, 2019
They do everything they possibly can to make it look like they are going to properly invest….then they don't invest pic.twitter.com/0R3BJASDTd

— Garrett Burns (@gazza_burns) November 26, 2019
And releasing it to the media puppets to report to appease fans who complain meanwhile they won't do any of the work required instead pocketing it for themselves (Glazers)

— John Clarke (@Nodger84) November 26, 2019