Manchester United: Fans rave over Nemanja Matic after huge performance in derby victory
Several Manchester United fans have been raving over Nemanja Matic after he put in a huge midfield performance against rivals Manchester City.
Anthony Martial grabbed the opener for the Red Devils in that crucial 2-0 win, but Matic also deserves a lot of credit for the protection he gave his side. Without him, it could have been an entirely different story.
Making three interceptions during the game (via WhoScored), the highest number recorded, Matic really did act as a shield in front of his defence. Based on that, you can see why one fan sees him as the stabiliser in the team. The Serbian also managed to carry a bit of a threat going forward, completing two dribbles and registering one key pass.
How much is Jadon Sancho worth?
£100m or more
Less than £100m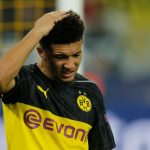 All of this comes after manager Ole Gunnar Solskjaer confirmed that Matic has agreed a new contract with the club (via Manchester Evening News), a development that many supporters are pleased with.
You can have a look at what they have been saying about the midfielder in full below…
https://twitter.com/ThatIndianGuy/status/1236721313835696128?s=20
Deserved the contract renewal tbh

— Pablo chocobar (@lazygodxo) March 8, 2020
Absolutely. Our Midfield has got a back into them with Matic, Fred ans Scott's fine form + Magical Bruno

— DON Mctominay FC (@united_scorpian) March 8, 2020
Matic lowkey has stabilized this United team.

He may have the turning radius of a mack truck but he's efficient

— kenna (@kennagq) March 8, 2020
Matic sure deserves the contract extension, showed how important he still is.

— … (@__Ifeoluwa) March 8, 2020
Nemanja Matic showed his class. What a DM man.
Deserve getting contract extension…!!!!

— Niranjan (@UnitedNMB) March 8, 2020
Manchester United fans, is Matic back to his best again? Tell us what you think in the comment section below!