Manchester United: Fans react to reports on future of Nemanja Matic
Manchester United midfielder Nemanja Matic could leave the club as early as January, according to The Telegraph's James Ducker .
Matic, 31, joined the club from rivals Chelsea in 2017 but has fallen out of favour under Ole Gunnar Solskjaer, making just five appearances this season.
Is it time for Manchester United to let Nemanja Matic go?
Yes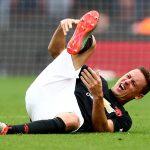 No
The progression of Scott McTominay, as well as the faith shown in Brazilian international Fred, has made game time very limited for the Serbian.
Both Inter and AC Milan were interested in signing the midfielder in the summer, but Solskjaer was reluctant to let him go after the departures of Ander Herrera and Marouane Fellaini earlier.
The Serbian hasn't featured since October's stalemate with AZ Alkmaar, and his contract expires at the end of the season.
United do have the option to extend that by a further year, with the idea of garnering a higher transfer fee for the former Premier League champion.
Here's how some United fans reacted to the news about Matic:
Perfect timing. Gardner can step up if needed.

— Tor Erik R. Johnsen (@toejohns) November 13, 2019
Italy
The retirement home for players to excel who cant keep up with the pace of the premier league.
Thanks Matic and good bye.

— 4EvaRed (@genius1love) November 13, 2019
Still remember when Mourinho said the next manager will inherit great players then he mentions Lukaku and Matic as examples 🙃

— Hazem Al-Qteishat (@HazemQteishat) November 13, 2019
Good decision. Insane if we dont have a midfielder lined up. Is it Partey time ? @Thomaspartey22

— Pushkar Sanyal (@woke_musings) November 13, 2019
if OGS can get another MF in who isnt like what we have, then i'd say go for it. Matic doesnt suit this speed and was an overrated buy for Jose.

— Rune Toftlund (@Rutof) November 13, 2019
Need a replacement and another xtra midfielder now.. we just cant go into the last 6 months of the season so light in the midfield … juggling Europa league and the Premier league and maybe Fa cup will be impossible ..

— ND (@Possimpible7) November 13, 2019
good man, bad signing. another example of football passing Mourinho by.

— Lawrence Ringshanks (@Ringshanks) November 13, 2019
If fosu comes back fit and we sign atleast one midfielder then we have more than enough cover in that position

— Jake (@Jake19180072) November 13, 2019