Manchester United supporters may not be feeling overly confident about their side's chances in the Premier League this season ahead of their opening game at Old Trafford on Friday night.
The Red Devils finished a staggering 19 points adrift of champions Manchester City last term to suggest that much work was needed to be done in the transfer window over the summer, yet the constant negativity from manager Jose Mourinho has been indicative of the difficulties he has faced bringing new players to the club.
And now we may know exactly why the former Chelsea boss has been particularly despondent during the summer, and that's because a recent report from The Guardian suggests that the United board opted against going through with some of the targets on the Portuguese's transfer wish-list.
And one of those names was Tottenham defender Toby Alderweireld, who was reportedly never bid for by the North West giants – in fact, just 'one conversation' was reportedly had between chief executive Ed Woodward and Spurs chairman Daniel Levy (and that was about Anthony Martial as opposed to the 29-year-old).
The Belgium defender has been repeatedly linked with a move away from North London in recent times after turning down a new deal with Mauricio Pochettino's side, with United one side having been heavily linked with the former Atletico Madrid centre back.
And Mourinho was absolutely right to want to lure the £36 million-rated star (as per Transfermarkt) to United this summer, as there is little doubting that the 29-year-old is and has been one of the best centre backs in the Premier League in the last few years – thus, Woodward and co were mad to go against the manager's desires on this particular move.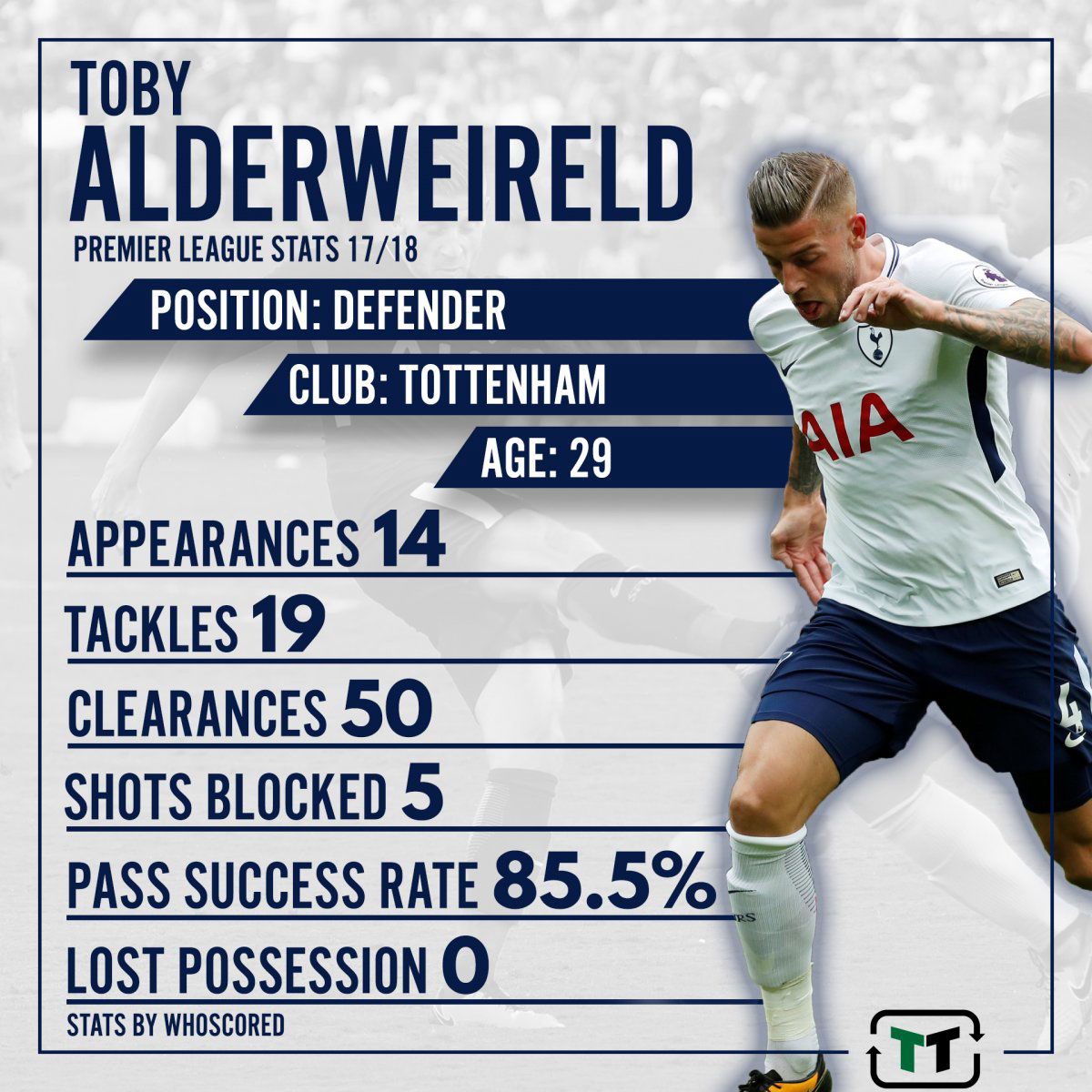 Ultimately, ever since Alderweireld first graced English football with Southampton back in 2014, he has been an absolute revelation, helping the Saints finish seventh in the 2014/15 campaign with the second best defensive record in the division, thus prompting ex-Saints chief Pochettino to bring him to Spurs.
And he has since gone from strength to strength in playing a key part in helping Tottenham finish third in the 2015/16 campaign and then second the season after, on both occasions the North Londoners finished with the best defensive record of any side in the division – his influence is clear for all to see.
And while there are likely to be concerns surrounding his recent injury issues (he missed much of last season with a hamstring problem), and indeed the hefty price-tag placed on his shoulders by Spurs chairman Levy, it's difficult to argue that the arrival of Alderweireld wouldn't significantly bolster the United backline heading into the new season (not to mention that it might cheer Mourinho up somewhat).
Despite finishing last season with the second-best defensive record in the league, conceding one goal fewer than champions City, the Red Devils chief is clearly unconvinced by his current pool of centre backs hence the interest in Alderweireld, as well as the likes of Harry Maguire, during the summer window.
And when one considers the unconvincing displays of Phil Jones, Chris Smalling, Victor Lindelof, and Marcos Rojo in the last 12 months or so, it's not difficult to see why a player of Alderweireld's calibre was wanted by the Manchester United manager – he would be a huge upgrade on the aforementioned quartet.
And while the Belgian ace will turn 30 next year, and as such his addition wouldn't necessarily be a nod to the long term, there are still plenty of seasons left in Alderweireld, while having a world-class centre back at the club can only be of benefit to messrs Jones, Smalling, Lindelof, and Rojo as they seek to improve and become the best defenders they can possibly be.
Yes, it would have cost a lot of money to bring the 29-year-old to Old Trafford, but to undermine Mourinho by disregarding his targets, arguing that what they currently have is as good as those on his wish-list, is a quite frankly staggering move by the United hierarchy – a club that haven't won the title since 2013 (Leicester have won it more recently).
As such, it seems pretty clear that the Red Devils were stupid not to fulfil Mourinho's wishes in bringing Spurs' Alderweireld to Old Trafford this summer.
United fans… what do you think? Let us know!